MSc MADE Program
The Master program Metropolitan Analysis, Design and Engineering (MSc MADE) focuses on our cities and metropolitan regions, which face the challenges of sustainability and quality of life in a fast urbanising world. Issues of mobility and logistics, water and waste management, energy and food security, health and wellbeing are at risk. Therefore, MSc MADE brings together multidisciplinary teams of students in Amsterdam to address questions such as: How to keep our metropoles connected? How to safeguard its vitality? How to aim for the circular city?
MSc MADE aims to provide innovative education and deliver excellent, interdisciplinary engineers with the theoretical grounding and practical skills to deal with the complex challenges of cities. The two-year master program will be offered as a joint degree program in Amsterdam by Wageningen University & Research and Delft University of Technology and is strongly intergrated with the other activities in our institute on: Research & Innovation, Living Labs & Entrepreneurship.
"Urban challenges demand smart and interdisciplinary solutions that are developed in close collaboration with both citizens and industry. In turn, these challenges require urban professionals who see opportunities in the most complex sustainable problems."
What you will learn
Students learn how to act in an environment where a variety of systems and networks shape the metropolitan region and flows in the city, and where a broad range of human actors and entities are influencing the whole. Students learn how to create understanding by making use of new technologies, enabling a much faster and accurate use of data on cities, and at larger scales than ever before.
Students learn the competencies of entrepreneurial and innovative thinking and acting in order to skill themselves as unique inter- and trans-disciplinary analyst, designer and engineer in the metropolitan environment. In addition, tailor-made, self-designed tracks in Wageningen or/and Delft facilitate specialization. Graduation projects are carried out in the second year. The living laboratory of Amsterdam supports cooperation with one of the private or public partners in the Amsterdam metropolitan region, or a more individual entrepreneurial project.
The two-year MSc MADE program is a combination of in-situ and online education, a thorough training in academic skills and project work, connected to the research portfolio of AMS Institute and our industrial and societal partners.
To give you an overall impression what our Master's Degree is all about, our Educational Coordinator, Anita van Oosten, and MSc MADE student, Wouter Johanns, created this video:
After graduation
As an MSc MADE graduate you will be an expert on the one hand and an integrator on the other, able to create synergy between specialists from other disciplinary backgrounds. You will be a boundary spanner at a firm or at a government, a pioneering researcher aiming for a PhD, or an innovator ready to start your own business.
"It is important to challenge, educate and create awareness for students about the current problems in the world and give them tools to take action for a sustainable future."
Gwenhwyfar Spil, MSc MADE student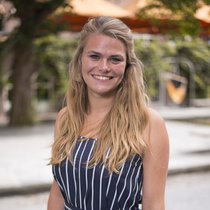 Want to know more about the program or looking to collaborate?
Any other questions? I'd be happy to help.
Student association & start-up
Collaboration with students is highly valued and stimulated. To facilitate this constant interaction, both Student Association MADE IT and student start-up Young Urban Engineers (YUE), play an important role.
MADE IT is MSc MADE's offical Student Association strives to enhance both the professional and social development of the MADE students. This is done through two main activities: firstly, professional development is addressed by organizing career-related events (ranging from workshops to study trips); secondly, through building a strong connection to the other activities within AMS Institute. And by organizing socializing and bonding events, relationships among students are built and strengthened, fostering true friendships.
Young Urban Engineers (YUE) is a brand new young consultancy, founded by MSc MADE students. It focusses on multidisciplinary challenges in the urban environment. Within this environment, they aim to fulfil a connecting role between companies, students of the MADE master program, AMS Institute and the City of Amsterdam.