It's time to graduate!
During their studies, students from MSc MADE (Metropolitan Analysis, Design and Engineering) focus on challenges, entrepreneurial skills and data analysis in the urban context. Over the course of two years, they develop to be metropolitan innovators, with creative and collaborative mindset.
Every year the Graduation Ceremony is a big festive event, during which we look back at two amazing years of learning, researching and tinkering in the city of Amsterdam. We celebrate students becoming alumni and entering the working field. Moreover, they receive their joint degree diploma from Wageningen University & Research and Delft University of Technology.
"After my bachelor Industrial Design, I wanted to focus on process design rather than product design to head towards more sustainable and circular environments. I got very interested in complex systems, such as the city. The MSc MADE also included a lot of multi- and interdisciplinary work, which I have always very much liked and challenges me to get the most out of ideas and solutions together with others."
Nono Leermakers, MSc MADE alumni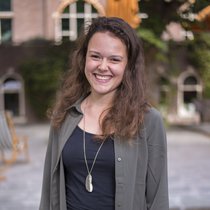 Leaving a mark on the Alumni Map
During the ceremony, a tradition for the students is to pin their mark on the Alumni Map. They are asked to mark a spot on the map of Amsterdam which is of great value to them. You can find it proudly hanging in the AMS Institute office.
Alumni working prospects
Once graduated from the MSc MADE, the students are ready to hit the working field. This differs from engineering, design to consultancy positions. These are some examples of where the MSc MADE students started their careers: Policy Officer Sustainability at the Urban Planning Department at the Municipality of The Hague, Environmental Consultant at Witteveen+Bos, Junior Advisor for the wastewater chain at the Hoogheemraadschap van Rijnland, Junior Project Manager at APEA (a research and consultancy firm focussed on the cradle-to-cradle principle), Technology Consulting Analyst at Accenture, Circular Fashion Lab Coordinator at Wageningen University & Research and trainee at the Ministry of Economic Affairs and Climate and the Ministry of Agriculture, Nature and Food Quality.
Take a look at the different MSc MADE Graduation Ceremony's down below.