The AMS Startup Booster is a business idea development and validation program hosted by AMS Institute, aiming to help aspiring entrepreneurs turn their gut feeling into a business. The entrepreneurs are expected to pursue an impact-driven startup in the field of urban-tech.
Lasting over 3 months, the AMS Startup Booster 2022 will start in April and run until June. The program will be hybrid, mainly digital and where possible live at the AMS Institute (Marineterrein Amsterdam). The program is most effective when all teams are fully committed so during the aforementioned time period there is a minimum requirement of 16 hours per week for each member.
Program:
The program consists of 6 workshops focusing on customer discovery and problem-solution fit. During these workshops, the following topics will be addressed:
Team fit
Market segmentation & Customer personas
Value Proposition & Business Model Canvas
Hypotheses testing & Experiment design
Pitching
In addition, a series of complementary masterclasses, peer-to-peer discussions and coaching sessions will be provided to the selected startups. We will close off with a DEMO DAY where the teams will get to showcase their business ideas and MVPs to a panel of experts and entrepreneurs.
Prizes:
For the 2 winning teams AMS Startup Booster will offer in-kind prizes of 3K euros worth, that will include the following elements:
Ongoing mentoring by business development experts
A dedicated office/working space for the next 5 months
Business promotion & exposure
Access to a makerspace and prototyping experts
Designing a real-life experiment in a living lab to further test the business idea
Access to a large ecosystem of academics, city officials, private and public organizations.
In addition, connections with other programs and potential investors will be made.
For whom?
We are looking for ambitious students, researchers and young professionals who have an awesome business idea that could impact city live and solve metropolitan challenges. Please note we are looking for teams not a single founder.
Registration
Apply for the AMS Startup Booster via this form. Applications should be submitted no later than March 27th.

"One of our key lessons was to really determine a focus for our product and to consistently keep that focus. Also, it has taught us that you should always go out and check whether the assumptions you have made are valid. By doing so, we have also learned to explain our idea and product in a simple and effective way."
Hugo Mohr | AMS Startup Booster Alumni | Founder of The Leaf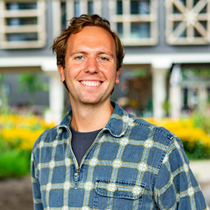 Get inspired by these 'boosted' alumni
With 7 teams 'boosted' during the AMS Startup Booster 2021, we look back at a successful second run. During the program, the entrepreneurs among others validated their assumptions and connected with potential partners and initiatives that helped them grow their business idea further. Let's introduce you to one of our Booster alumni: The Leaf. Get inspired by how they accelerated their business idea into a successful start-up:

The Leaf: designs pergolas to make the city climate adaptive
Worldwide cities heat up, experience loss of biodiversity and more heavy rainfall. Adding greenery in urban areas mitigates such climate change impact. Where to place this greenery as urban space is limited? The Leaf's solution: climate-adaptive pergolas. These constructions, called 'Leafs', covered with greenery can, for example, be built over city squares. As such they require little space on and below the ground.
Want to know more or looking to collaborate?