At AMS Institute, we are committed to creating successful transitions to a more sustainable resilient and just future. Therefore, we strive to make a positive impact on our cities by creating solutions for complex urban challenges. The urban challenges we face today have a multidisciplinary nature, which makes it important to create a connection between fundamental research and society-wide implementation - and to connect the different disciplines and stakeholders needed to solve them. In light of this, Living Labs are an attractive way to test, create and develop metropolitan solutions that will be adopted more smoothly and swiftly by all stakeholders involved. And as a result, have a long-lasting impact on solving complex multi-stakeholder societal and metropolitan challenges on a large scale.
"I believe we can learn from technology, like we learn from looking at nature. Working in living labs allows us – both the municipality and society as a whole - to learn from one of the greatest technological achievements that people are capable of building: ingenious resilient and sustainable cities. In order to learn from the complex systems that cities are, we need to share knowledge, be optimistic, trust and cooperate - and a living lab environment creates the grounds to do so."
Sacha Stolp | Senior Strategic Advisor | City of Amsterdam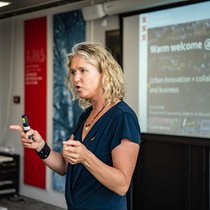 The goal within our urban Living Labs is to make impact by developing new products on a small scale – be it an object, a service, a technology, an application, or a system – and to find solutions that can be implemented on a larger scale. This is done in a real-life and co-creating setting in which different stakeholders give shape to the innovation process. The actors are users, private and public actors, as well as knowledge institutes. In the process, the feedback gathered from use and evaluation of the product is used to accelerate further development. As the product is implemented in a real-life setting and validated by the involved actors, it is more likely to be adopted smoothly and swiftly by all involved, and subsequently have a large impact in the city quickly.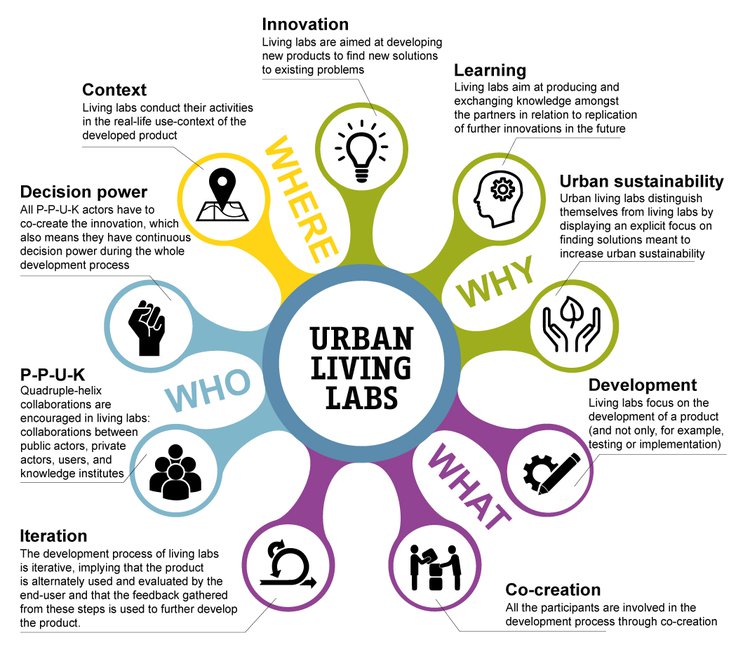 Living Labs in practice: Creating impact for Amsterdam
Our mission is to design solutions for urban challenges and create positive societal impact to create better cities, and we believe the Living Lab approach is the way to achieve that. In that sense, the Living Lab approach is strongly intertwined with our core activities in both research & valorization and education. Together with different partners, we work on a multitude of living labs throughout the city in which we are creating impact for the city on the different urban challenges (read more about the urban challenges). You can find some examples of what these living labs look like below or download the flyers.
Flyer Energy Lab Zuidoost Living Lab
Flyer Marineterrein Amsterdam Living Lab (MALL)
Marineterrein Amsterdam Living Lab
Urban Challenges: Smart Urban Mobility, Circularity in Urban Regions & Climate Resillient Cities.
Location: Marineterrein Amsterdam
Like cities worldwide, Marineterrein Amsterdam faces major challenges. For example in mobility, circularity, and (ethical) digitization. To come up with innovative solutions, there is a need for a physical location, knowledge, and collaboration. Marineterrein Living Lab is a place where this happens.
The Marineterrein uses the terrain as experimental environment for its own development. The partners work together to stimulate collaboration between companies, scientists, students and government agencies. This creates (scalable) experiments that are tested on the grounds, and ultimately applied in urban environments.
More information on Marineterrein Amsterdam Living Lab and how to apply for experimentation.
Marineterrein Amsterdam Living Lab is a collaboration between Bureau Marineterrein, Amsterdam Smart City (ASC)/Amsterdam Economic Board (Board), NEMO Science Museum and AMS Institute.
AMS Institute is involved in several experiments within the Marineterrein Amsterdam Living Lab focused on the different challenges. You can find more information about some of these experiments below.
CINDERELA
Urban Challenge: Circularity
Location: Marineterrein Amsterdam
Cinderela researches closing the water cycle and the organic (plastic) waste cycle. All the nutrients in urine will be recovered, and the water will be upgraded to drinking water quality. It uses the urine of visitors to the terrain and in a later stadium also of the AMS building. Plastic will be collected and recycled into elements to build green walls containing plants growing fertilized by the nutrients recovered from the urine. More project information soon!
"Collaborating with enterprises, municipalities and citizens has enriched our research. The integration and use of the AMS Living Lab Way of Working has enriched the process and fosters co-creation towards next level solutions."
AMS PI & Professor Environmental Technology & Design (TU Delft)
Other Marineterrein Amsterdam Living Lab experiments:
ATELIER
Urban Challenge: Energy
Location: Buiksloterham
The ATELIER project aims to contribute to 'Positive Energy Districts' by applying innovative energy and mobility technologies and shaping the implementation process of energy solutions together with local stakeholders.
MSc MADE Living Labs
Designing and working from Living Labs is also a main activity for the graduating MSc MADE students. In their living lab assignments we connect them to the Amsterdam ecosystem, in which they work on cases for and together with our partners in the network. Last years students were connected to seven different organizations throughout the city. Here you can read more about their Living Lab results.
Method, toolkit & community development
While bringing living labs in practice, we simultaneously continue to develop and fine-tune our Living Lab approach and toolkit. Over the past years, AMS Institute has continuously worked on improving "The AMS Urban Living Lab Way of Working" (ULL WoW). It has evolved into a structured, graphically clear approach to assist in solving complex multi-stakeholder societal and metropolitan challenges. We are in a continuous dialogue with our community of living lab practitioners to keep improving the method and tool kit – for example through our yearly Urban Living Lab Summit.
The Living Lab Way of Working guides actors in what to think about in which stage of the process, while offering advice on elementary questions such as for example how to set up a project, how to formalize the agreements made, how to achieve inspiring co-creation sessions and how to manage an innovation collectively through a suitable legal organizational form.
Here you'll find an overview of the scientific publications produced in collaboration with our Living Lab Project Team.
Team Working on Living Lab Program
Implementation, training, development, and research on the AMS Living Lab Way of Working are done by a dedicated team:
The Living Lab Program Team

The program activities are co-created with support from
Nina Bohm (Research Fellow Learning in Living Labs)
Aksel Ersoy (Assistant Professor in Urban Development, TU Delft)
Michel Handgraaf (Research Fellow AMS Institute)
Sophieke van Beek (Communications Officer)
Want to know more about our living labs, or looking to collaborate?