Supporting the next generation of startup ideas
AMS Institute is strongly committed to helping the next generation of ambitious urban and sustainable entrepreneurs to turn their ideas into reality. With this program AMS Institute brings together innovation, education and science, creating a new vibrant breeding ground for teams working on solutions for the city's most pressing urban challenges. It lasts approx. 3 months, starting in September. We aim to bring the start-ups to the level where they have eliminated uncertainties, done a thorough customer discovery, formed a strong team and can venture out with a solid pitch and minimal viable product.

Is your business ready for a the next step? Apply here to join the 2021 run of the program from mid September until mid December!
"For me, the AMS Institute network and ecosystem have provided a gateway into the Dutch engineering and mobility profession. The numerous networking opportunities provided by AMS enabled the assembly of our founding team as well as an initial understanding of the market and market players."
Matthew Bearden- CEO City Analytics
"We see startup ideas arise from our research results, from the entrepreneurial activities of our MADE students and opportunities that arise from new initiatives and collaborations in our innovative eco-system. This makes the launch of a pre-incubation program a logical next step in our mission to re-invent the city."
Managing Director
Building blocks of the pre-incubation program
The program will consist of the following key components that will help prepare for a successful start-up:
We close the program with a demo day. We expect that after our joint journey the teams will be prepped and ready to apply for an incubator, grant/loan or maybe just launch their business.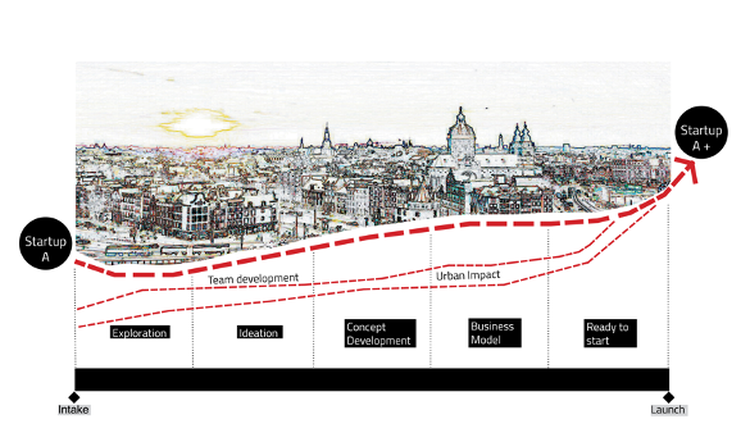 Assets of the AMS startup Booster
AMS startup Booster consists of a diverse group of experts who will guide the teams throughout the program. The program also offers unique additional benefits such as: access to the testing area of the Marineterrein (the Marineterrein Amsterdam Living Lab), a Makerspace at AMS Institute and access to a large ecosystem of academics, city officials, private and public organizations.
Creating a better city by turning ideas into startups
The people we are looking for are dynamic urban entrepreneurs that want to work on turning their idea into a business. Do you think you can help out our teams with your expertise, please reach out to Marije Wassenaar, program manager AMS Startup Booster.
Let's create a better city together by turning ideas into startups!
"Last year we had over more than 30 applications of which we selected 8; an awesome result. Through our network we were able to help them pilot their technique, continue on to other (European) programs and even scale up. Can't wait to see the urban solutions of the next batch."