Supporting a next generation of startup ideas
AMS Institute is strongly committed to helping the next generation of ambitious urban and sustainable startups to turn their ideas into reality. With this program AMS Institute brings together innovation, education and science, creating a new vibrant breeding ground for startups working on solutions for the city's most pressing urban challenges. It will last approx. 4 months, starting in October 2020, ending in January. We aim to bring the start-ups to the level where they have eliminated uncertainties, done a thorough customer discovery, formed a strong team and can venture out with a solid pitch and prototype.
"With 30 applications submitted in its first call for applications, it's clear that the program addresses a real need. Applications came from different cities in the Netherlands and even from different countries. The first eight startups admitted to the program consist of eight very diverse and innovative ideas to help tackle the challenges that cities face, ranging from mobility and tourism to infrastructure maintenance and efficient housing ideas. The teams hit the ground running and have so far been working on the urban impact of their solution, the market they want to operate in, as well as their team composition."
Program Manager New Business Innovations
"We see startup ideas arise from our research results, from the entrepreneurial activities of our MADE students and opportunities that arise from new initiatives and collaborations in our innovative eco-system. This makes the launch of a pre-incubation program a logical next step in our mission to re-invent the city."
Managing Director
Building blocks of the pre-incubation program
The program will consist of the following key components that will help shape and successfully prepare the start-ups:
Urban impact: explore, analyze and gain a better insight in the complexity of urban systems.
Customer discovery: identify the customer segment
Ideation: tweak solutions
Concept development: prototype solutions in the AMS Makerspace
Business model development: what is the market potential?
Pitch readiness: what makes a great pitch - pitches are the starting point or launch of any startup.
Team composition: does the team have all the skills on board?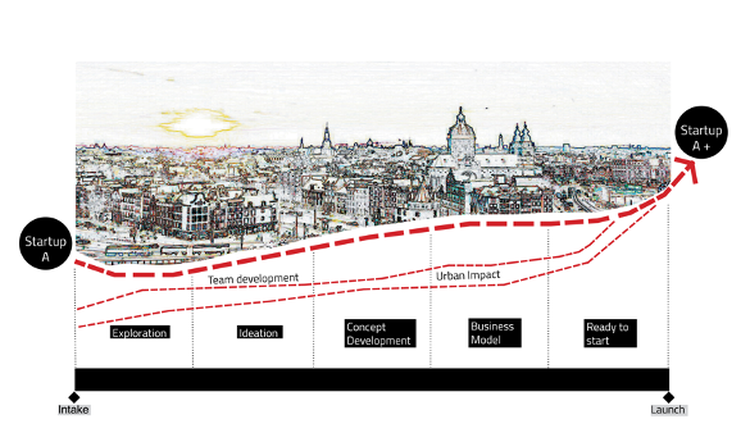 Assets of the AMS startup Booster
The Booster program has a team of diverse coaches and experts to help guide the teams. Next to this personal guidance, the program also offers the unique and extra benefits of: access to the testing area of the Marineterrein (the Marineterrein Amsterdam Living Lab), a Makerspace and access to a large ecosystem of academics, city officials, private and public organizations. Our aim is to close the program with a demo day. We expect that after our joint journey the teams will be prepped and ready to apply for a larger incubator, grant/loan, or maybe even ready for their first customer.
Creating a better city by turning ideas into startups
The eight startups all consist of dynamic urban entrepreneurs that are now hard at work on their business ideas. Do you think you can help out our teams with your expertise, please reach out to Marije Wassenaar, program manager AMS Startup Booster.
Let's create a better city together by turning ideas into startups!
Download: Q&A AMS Startup Booster
Want to know more or looking to collaborate?