*** Applications are closed - at the bottom of our website you can sign up for the AMS News Update and stay informed about the program ***
Do you have a good idea that helps to tackle the challenges our cities face? But do you need support in eliminating uncertainties and want to learn how to successfully launch your business? Then register for the AMS Startup Booster.
In this program you will define the end goal, we will provide the help you need to reach that goal. We are open for all, but have a soft spot for students, graduates & researchers.
"We see startup ideas arise from our research results, from the entrepreneurial activities of our MADE students and opportunities that arise from new initiatives and collaborations in our innovative eco-system. This makes the launch of a pre-incubation program a logical next step in our mission to re-invent the city."
Managing Director
Supporting a next generation of startup ideas
AMS Institute is strongly committed to helping the next generation of ambitious urban and sustainable startups to turn their ideas into reality. With this program AMS Institute brings together innovation, education and science, creating a new vibrant breeding ground for startups working on solutions for the city's most pressing urban challenges. It will last approx. 4 months, starting in October, ending in January. We aim to bring the start-ups to the level where they have eliminated uncertainties, done a thorough customer discovery, formed a strong team and can venture out with a solid pitch and prototype.
Building blocks of the pre-incubation program
We welcome all startup ideas with an urban focus me to apply to the program. The program will consist of the following key components that will help shape and successfully prepare your start-up idea:
Urban impact: explore, analyze and gain a better insight in the complexity of urban systems.
Customer discovery: identify your customer segment
Ideation: tweak your solution
Concept development: prototype your solution in the AMS Makerspace
Business model development: what is your market potential?
Pitch readiness: what makes a great pitch - as your pitch will be the starting point when presenting your ideas for the next phase in launching your startup.
Team composition: does your team have all skills on board?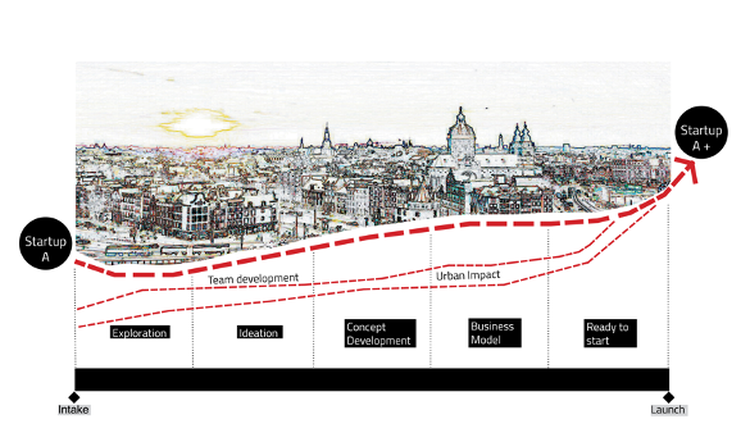 What will joining the program bring your startup idea?
We have reached out to experts and experienced entrepreneurs; together with them we will guide you through this process to establish a well-founded basis to further develop your startup idea. Next to this program we can offer the unique and extra benefits of: access to the testing area of the Marineterrein (the Marineterrein Amsterdam Living Lab), a Makerspace and access to a large ecosystem of academics, city officials, private and public organizations.
Our aim is to close the program with a demo day. We expect that after our joint journey you will be prepped and ready to apply for a larger incubator, grant/loan, you will have a mock-up/prototype and you're maybe even ready for your first sale.

Creating a better city by turning ideas into startups
You can submit your idea until the 21st of September after which we will select the teams that can start in October. The first run of the program is a pilot, and therefore participation is free of charge.

So let's create a better city together by turning ideas into startups!
Download: Q&A AMS Startup Booster