To help develop and establish these new start-up ideas we developed an incubation program, the AMS Startup Booster, which was launched in 2020. The AMS Startup Booster provides an ecosystem to grow businesses that make an impact on the cities and their citizens. We aim to help the next generation of early-stage ambitious urban startups to turn ideas into reality.
Over the course of three months, the AMS Startup Booster offers more than 20 workshops and masterclasses, mentoring and coaching from industry experts. These interactive sessions are held every Tuesday and Friday from 15:00-17:00, and can be attended either in-person or online.
So, ready to turn your idea into a business? The call for applications is open from July till October 1st, 2023. Apply here to join the next run of the program.
"The AMS Startup Booster team made exceptional efforts to connect us with their network, gain business insights and find opportunities to help our ideas grow. Pointing us towards the EIT Urban Mobility Accelerator is a perfect example of that!"
Jodi Kooijman (left) | AMS Startup Booster Alumni | Co-founder Swugo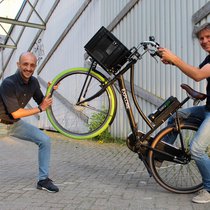 Improving city life with innovative concepts
AMS Institute is strongly committed to helping the next generation of ambitious urban and sustainable entrepreneurs to turn their ideas into reality. With the AMS Startup Booster program, we bring together innovation, education, and science, creating a new vibrant breeding ground for teams working on solutions for the city's most pressing urban challenges.
Building blocks of the AMS Startup Booster program
The program consists of key components that help prepare for a successful start-up:
An entrepreneurship curriculum with more than 20 workshops & masterclasses
Mentoring & coaching by industry experts
Lifelong access to online entrepreneurship & pitching courses
Office space & Makerspace
1K Credit for Miro
Cost & equity free

Workshops & Masterclasses by renowned professionals
Through a series of workshops and masterclasses offered by renowned professionals & business experts, we take your startup idea from a concept to a validated business model. During these workshops, the following topics will be addressed:
Research Fundamentals & Problem Definition
Market Segmentation & Customer Personas
Customer Discovery
Value Proposition & Business Model Design
MVP Design & Prototyping
Experiment Design
Pitching
In addition, our complimentary masterclasses will cover topics such as Team Fit & Alignment, Marketing & Branding, IP Rights, Finance & Funding, and many more. Peer-to-peer sessions and 1-on-1 coaching will complete the free services we offer to the selected startups.
"One of our key lessons was to really determine a focus for our product and to consistently keep that focus. Also, it has taught us that you should always go out and check whether the assumptions you have made are valid. By doing so, we have also learned to explain our idea and product in a simple and effective way."
Hugo Mohr | AMS Startup Booster Alumni | Founder of The Leaf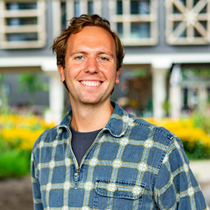 Demo Day: Pitch and win prizes during the 'finals'
We close off the program with a Demo Day during which the teams showcase their business ideas and prototypes to a broad audience of experts, investors and entrepreneurs and compete for a list of amazing prizes! Prizes include:
Guidance on the design of your feasibility experiment in Marineterrein Living Lab
Access to a 5000 euros feasibility grant
Access to follow-up programs & funding opportunities
Additional customer discovery sessions
Continuous coaching & mentoring
Office Space & Makerspace
Promo material & access to a large network
"We expect that after our joint journey the teams will be prepped and ready to apply for an incubator, grant or loan or maybe just launch their business."
Entrepreneurship Lead
Get inspired by our AMS Startup Booster alumni teams
In the last couple of years AMS Institute has been involved with helping a number of startups that originate from our research portfolio, MSc MADE students & alumni as well as entrepreneurs that are new to our community. Find a selection of startups by clicking on 'AMS Startup Booster Alumni' below and get inspired by how they accelerated their business idea into a successful start-up.

Want to know more or looking to collaborate?
Want to know more or looking to collaborate?