In this conference on 16-18 February, 2022 we will explore and discuss how cities can transform their systems, to become more livable, resilient and sustainable, while offering economic stability.
Please visit the event website for more information or to register.
Keynote Speakers
We are honoured to host Carolyn Steel, Wouter Veldhuis and Anna König Jerlmyr as our keynote speakers. Each of these speakers will kick off a day with a keynote appropriate to the day's theme, to start the day in an inspiring way, full of energy and ideas.
Carolyn Steel is an architect, writer and leading scholar on food and cities. She is the author of the award-winning book 'Hungry City: How Food Shapes Our Lives' (2008). In 2009, The Ecologist magazine profiled Carolyn as a '21st Century Visionary' and she is an admired speaker worldwide.
Wouter Veldhuis is Chief Government Advisor on the Built and Rural Environment. As a member of the Board of Governor Advisors, he advises on spatial programmes and projects of the State involving themes such as mobility and urbanization.
Anna König Jerlmyr is the Major of Stockholm. She has a background in economics and communications, and was a member of the Swedish Riksdag from 2006 until 2010. Upon entering Stockholm City Council in 2010 she was appointed Vice Mayor for Social Affairs and Chair of Stockholm's Police Authority, posts that she held until 2014.

Program
The conference sets the stage to spark a dialogue between scientists, policymakers, students, and industry partners from different backgrounds and areas of expertise. The program of Keynotes, Panel Sessions, Workshops, Special Sessions and Paper presentations will cover topics such as urban green and circular strategies, new urban mobility frameworks, the energy transition, and local urban food production.
Day 1 | Feb 16 - The first day of the conference revolves around the theme 'Future City', and addresses the topic of what the city of the future will look like. (With a keynote by a.o. Carolyn Steel)
Day 2 | Feb 17 - The second day of the conference is linked to the theme 'Integral City'. This day will continue the discussions of day one (the future city), and will dive into the question 'how can we do this?'. (With a keynote by o.a. Wouter Veldhuis)
Day 3 | Feb 18 - The conference will conclude with the theme 'Reinvented City' on Friday the 18th. This day will address the question 'how do we get there?'. (With a keynote by a.o. Anna König Jerlmyr)
Full program & program at a glance
For the full program per day visit the website and find out more about the 50+ workshops, special sessions and paper presentations. To get an overview of the program, download 'the program at a glance' here.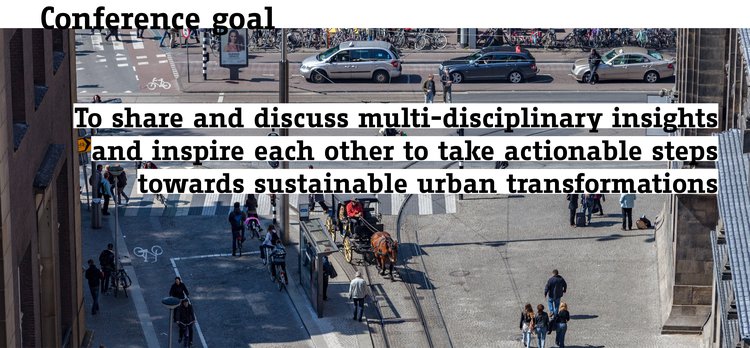 Registration
When?
16-18 February, 2022
Location
Online & partially at AMS Institute
Kattenburgerstraat 5, Building 027W, Amsterdam
This event setup is hybrid; activities are streamed online and some parts take place at AMS Institute.
* If possible within the measures regarding COVID-19 at that moment. If not, the conference will be held online.
We look forward to seeing you February 16-18, 2022! For questions or more information, don't hesitate to reach out: events@ams-institute.org
This event is hosted by AMS Institute, in collaboration with the City of Amsterdam