Throughout the week of the Circular Economy, together with Metabolic, City of Amsterdam, Amsterdam Economic Board and Amsterdam Smart City, we have shined a spotlight on inspiring sustainable initiatives in the Netherlands.
Sit back, relax and get inspired by this selection:
1. Upcyclecentre in Almere
The Upcyclecentre contributes to a circular economy in which raw materials are reused optimally. Residents bring in their waste, and startups on site design and create products from waste. Old goods gain new economic value, value which in some cases may be higher than the original value. It's a new concept; people may say it's the first upcycle centre in Europe... Read the full interview by Amsterdam Smart City here >>
2. Recycling 1.000.000 mattresses each year
Mattresses are the largest stream within household residual waste. We discard more than a million each year. That is the Johan Cruijff ArenA filled to the roof. Why burn if we can also recycle it?
The Circular Economy Lab initiative from Amsterdam Economic board in collaboration with the Utrecht Sustainability Institute was the starting signal for the national cooperative in the mattress chain. Led by Jacqueline Cramer and Jan Nieuwenhuis, we are working towards a circular mattress chain... Click here for the entire article >>
3. A litter and plastic soup tackling superhero: Zwerfinator
Amsterdam Smart City interviewed a real-life superhero, Dirk Groot, who fights litter and plastic soup with his Zwerfinator movement. Dirk conducts research by collecting data on litter: what is it, where did he find it and how does this match with the surroundings. Based on the collected data he advises local governments and companies and help them with finding solutions. Continue reading the full interview >>
"I am a data scientist by heart. So I know a how to collect, interpret and advise on this data. I started 6 years ago with picking trash and 3.5 years ago with collecting the data."
Dirk Groot | Zwerfinator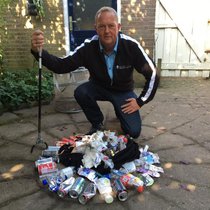 4. Loop.a life: 100% circular sweaters
According to the Ellen MacArthur Foundation, the world is producing more and more clothes, double what we produced 15 years ago. Sadly, only 1% of this material is ever recycled. The rest cannot decompose, as even natural fibers have been bleached, dyed, soaked, and printed on before these fibers become clothing.

One initiative in Amsterdam aims to make 100% circular sweaters, entirely from recycled materials: Loop.alife, founded by Ellen Mensink. Among others, this company only uses fibers from locally worn jeans and sweaters, which have also been sorted here in Amsterdam. This means far less transport than the usual route to South Asia, where clothing waste is usually recycled... Click here to read the full article by the City of Amsterdam >>
"I think I can safely say that we have the most sustainable sweater in The Netherlands, possibly even in the world. At least that's our ambition."
Ellen Mensink | Founder Loop.alife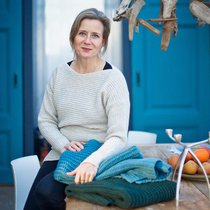 5. Headphones as a service
The World Economic Forum estimates that the world generated 50 million tonnes of e-waste in 2018, a figure projected to more than double by 2050 if nothing is done. So are there circular economy solutions for e-waste that can cure our addiction to disposable consumer electronics?
One circular economy solution is to develop product-as-a-service models like that adopted by Dutch headphones startup Gerrard Street. Instead of selling customers headphones which are thrown out as soon as they break, adding to our e-waste problem, Gerrard Street leases the headphones as a service.
Customers pay a monthly fee, and in return have access to modular headphones that use no glue and are easy to disassemble. If something in the headphones breaks, customers send the part back at no extra cost and are given a replacement, while Gerrard Street refurbishes it for use in another pair... Click here to read the full article by Metabolic >>
6. Building bridges from flushed toilet paper
Imagine biking over a bridge made out of paper we flush down the toilet in the City of Amsterdam? Every year, up to 175.000.000kg of cellulose-rich toilet paper can be sieved by wastewater treatment plants in the Netherlands. What if valuable resources like the aforementioned could be re-used by the construction sector?
Currently, BAM Infra Nederland, NPSP, Technische Universiteit Delft, ChainCraft B.V. and our Research Fellow Peter Mooij investigate how a "bulletproof" bio-based 100% circular material - from combining cellulose and bacterial glue extracted from wastewater - can be best applied by the construction sector. Click here to read our full article >>