Have you ever heard of bitawiri or long-podded cowpea? These vegetables were once a fundamental part of the daily diets of 50% of Amsterdam Southeast's inhabitants, who have diverse cultural backgrounds. Now, they have little access to them, resulting in health complications and a loss of their own culinary heritage.
Today, on World Food Day, we feature a new project: the Damsko Greenhouses (De Kassen van Damsko). On the Damsko Greenhouses terrain, inhabitants of Southeast can claim their own allotment. In this greenhouse, named after the local term "Damsko", short for Amsterdam, they can learn how to grow crops professionally and become entrepreneurs. This way, we can put exotic vegetables, back on the menu.
On the Osdorperweg 937, a 18000m2 of allotment and production space is being prepared to produce minor crops, also known as exotic vegetables. On the Damsko Greenhouses terrain, inhabitants of Southeast can claim their own allotment. In this greenhouse, named after the local term "Damsko", short for Amsterdam, they can learn how to grow crops professionally and become entrepreneurs.
How it started
In Amsterdam, many different cultures and ethnicities come together. The Southeast region is especially diverse, featuring at least 100 different ethnicities: Moroccans, Surinamese, Ghanaians, Pakistanis, Afghans, Indians and others. For many of them, it is difficult to obtain the vegetables and fruits that they use for their traditional meals. Transportation of exotic vegetables takes a lot of pesticides, elevating their price, making it an unattractive product for sellers, and decreasing their availability. The result: a lack of healthy food and an increase in heart failure, diabetes, obesity, and other health complications.
In 2020, a predecessor of the Damsko Greenhouses project was launched to address these challenges. This initiative, known as the Hereditary Culinary Heritage project, was a collaboration with the City of Amsterdam to support its food strategy. The goal was to cultivate crops at the Gaasperpark that were beloved by the residents of Amsterdam Southeast. Unfortunately, despite strong community support, the project was unable to grow minor crops at this location due to destination plans.
Against all odds
AMS Institute and other involved parties of the Hereditary Culinary Heritage project kept searching for a location to cultivate exotic vegetables. This was easier said than done: the quest for green land in Amsterdam made it a daunting challenge. Locations like the Tunnelroof of the A9 and Weesp were visited, but none of them were suitable for the project.
This year, the Metropolitan Food Systems department of AMS Institute was contacted by the City of Amsterdam, offering an available location in Osdorp, with 18000m2 available for the growth of minor crops, on the border of Amsterdam and Halfweg. A green location of this size, close to Amsterdam, is very rare. A collaboration was formed with Cooperation Stadslandsgoed Nieuw-West, Wageningen University & Research, Ferry Green BV, Ted Innovatie en Advies, Terragon Nature Lab, and Inholland University of Applied Sciences. The door is still open for new collaborations.
Inhabitants can use the greenhouses to cultivate minor crops in cold ground. In the future, the greenhouses might be heated because this is more efficient for production and will lower the retail price.
"This project is a unique chance for Amsterdam to be an example of a city that can produce its own food, and that that is possible even with a big diveristy of ethnicities."
Arun Swami Persaud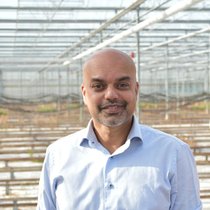 Local Inclusive Product Development
Of course, this is not the first time greenhouses opened their doors to private individuals or the first greenhouse to successfully grow minor crops. What sets apart the Damsko Greenhouses is the inclusion of participants in product development. Inhabitants with a migration background have been growing exotic vegetables without greenhouses and in cold soil for decades. Ensuring their valuable knowledge contribution to the project, they will be commenting on taste, texture, and the production process, to make sure that the vegetables are recognizable for consumers. In the future, we aim to sell these rare vegetables in supermarkets. The information that is collected from the participants will be gathered in a data bank, aiding the development of crops, and making this a citizen science project.
"Local cultivation of exotic vegetables is important for a more diverse consumption and to respect our multicultural society."
Program Developer Business Development Nature Based Solutions
Inside the Damsko Greenhouses, the cultivators get professional assistance from a grower, as well as training programs and courses. During these courses, participants will learn how to professionally cultivate minor crops in a circular and sustainable way. They will learn, among other things, how to recognize diseases and plagues in time and how to combat them. For this, they will use natural crop protection products. Aside from the growing and nurturing of crops, they will get acquainted with circular production by, for example, creating their own compost.
Currently, potential participants are contacted by utilizing community radio channels, church communities, and the fine-meshed network of people who know each other.
In essence, Damsko Greenhouses is more than a place to grow vegetables; it's a testament to Amsterdam's cultural diversity and the power of community-driven solutions. By bridging the gap between diverse backgrounds, it promotes not just healthier eating but also the preservation of culinary traditions. With the active involvement of residents, the project demonstrates the potential for a city to take charge of its own food production while embracing its diverse cultural heritage.
Want to know more or looking to collaborate?