Among others, Martin Scholten (WUR), Sigrid Wertheim-Heck (Aeres Hogeschool) and Ron Methorst (Aeres Hogeschool) contributed to the book. Louise O. Fresco wrote the preface, setting the stage for the problems and issues at stake. The publication was initiated by, and is the result of, the collaborations within the Flevo Campus. AMS Institute is one of the founding partners of Flevo Campus.
In "De buik van de stad", eight authors investigate questions about our food system in four essays. The first essay discusses the future prospects of young farmers in a changing food landscape and the responsibility that lies with them and other experts. This is also the central theme of Flevo Campus Live. The other three essays examine the food system at different levels: on a global scale, on a regional scale, and on an urban level. Landscape pain, loss of biodiversity, soil degradation, unhealthy food – the negative side effects of the efficient and cheap food system that was built up after the Second World War – have outweighed the benefits. Everyone involved knows: something has to change. But where urgency and analysis are shared, opinions differ widely on how to proceed. "De buik van de stad" questions the ideas and assumptions of the reader and offers a nuanced but daring perspective on the future. A must-read for anyone who wonders what the future of our food system may look like.
"It is the challenge of our time to find the balance between local and international, between small- and large-scale, and all the shades between them. What can be done to nurture the desire for local food, while securing the urban food supply? That is what this book is about. By opting for recirculating agriculture, the current Minister of Agriculture, Carola Schouten, has already made a good start to spark the discussion."
Louise O. Fresco (President of the Wageningen University & Research Executive Board)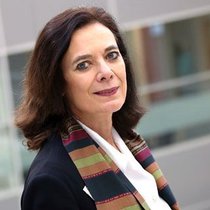 The essay collection "De buik van de stad" was published on the initiative of Flevo Campus. The book will be published by Van Gennep and will be available everywhere from 6 December.
Flevo Campus
Flevo Campus, based in Almere, shows in practice how urban food supply in smart combination with agricultural renewal leads to healthy citizens and a better living climate in cities. With this collection, Flevo Campus contributes to the discussion about change in our food system.
Flevo Campus is a partnership between Aeres Hogeschool, Amsterdam Institute for Metropolitan Solutions (AMS Institute), the municipality of Almere and the province of Flevoland. Flevo Campus shows in practice how urban food supply in smart combination with innovations in agriculture leads to healthy citizens and a better living climate in cities. To make this possible, Flevo Campus is strengthening green education by developing new bachelor's and master's programmes, working together with Wageningen University & Research and Delft University of Technology on a long-term research programme, organising Flevo Campus Think Tanks for young professionals, and supporting businesses in the region with knowledge vouchers, projects and research. For more information, visit www.flevocampus.nl
Want to know more or looking to collaborate?