Roboat is a research project by Massachusetts Institute of Technology (MIT) and Amsterdam Institute for Advanced Metropolitan Solutions (AMS Institute). Five years ago the project set the ambition to develop self-driving solutions on the water, for different use cases that benefit the city. After successfully implementing full autonomy on the quarter and half-scale, we are now ready to share this important milestone with you: the first full-scale autonomous boat for an urban environment.
Are you ready to jump on board Amsterdam's first fully autonomous boat?
When: the 28th of October
Where: AMS Institute, Marineterrein Amsterdam
Time: 13:30 till 18.00, including drinks and bites (you can also join part of the program)
Program Roboat Demo Day
1st part of the program - workshops (13:30 -15:00)
We will host two in-depth parallel workshops for which we have limited seats available - your active participation is welcomed. The number of participants we can admit to the workshop will depend on the COVID19 measures that apply on October 28:
Workshop 1: Roboat technology review: Autonomy in the city (technology-focused session)
Workshop 2: Added value of Roboat in a complex urban environment (use case focused session)
2nd part of the program - Live Demo at Marineterrein Amsterdam Living Lab (15:00-18:00)
The second part of the Roboat Demo Day starts at 15.00h with an informal walk-in, and continues with:
15.30 Opening talk by Carlo Ratti (MIT), Stephan van Dijk (AMS Institute) and Ger Baron (City of Amsterdam) - celebrating 5-years of research
16.00 Find your spot at the water to experience the demo
16.15 Live Roboat Demo
16.45 Closing words
17.00 Drinks & bites, and options to visit the Roboat Expo at NEMO Studio

From 17:00-18:00, there are optional one-on-one sessions on request, which you can indicate in the registration form.
The event invitation only. The setup of the event could be subject to change due to COVID19 uncertainties. We will inform participants of the revenant COVID19 measures in place.
For questions or more information about the event, don't hesitate to reach out to:

Ynse Deinema, Program Developer Smart Urban Mobility at AMS Institute | E-mail
For media requests please contact Debby Dröge - Head of Communications | E-mail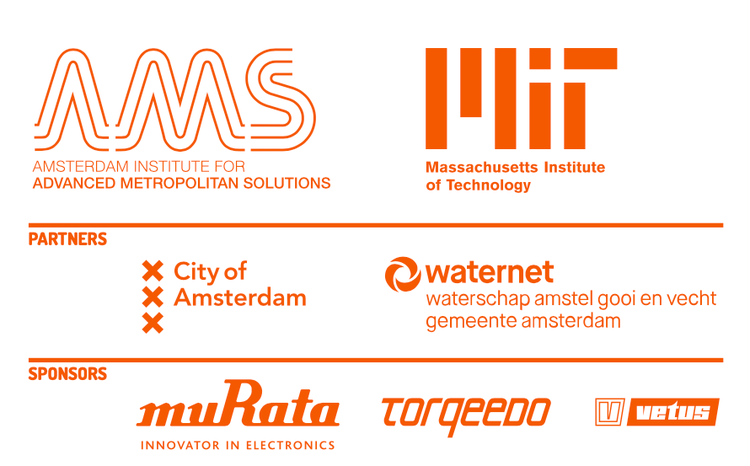 Want to know more or looking to collaborate?
Want to know more or looking to collaborate?