Ynse's role at AMS Institute is to manage, facilitate and accelerate the Roboat project. In practice this means that he aligns the R&D that is done by the researchers of MIT and TU Delft, with the goals that were originally set out by AMS Institute and the municipality of Amsterdam. Ynse is also working on the development- and build of the full scale Roboat. For this he is collaborating with a highly motivated group of private companies that have a joint ambition to further grow the ecosystem for autonomous vessels in the Netherlands, and Amsterdam specifically.
Ynse has an academic background in Neuroscience (Bsc) and Management & Entrepreneurship (MSc). However his interest in high tech and innovation landed him a job as a grant/innovation consultant. There he specialized in NL/EU funding for technological innovation (WBSO, Innovatiebox, MIT, H2020 SME, EUROSTARS et cetera). While acquiring more and more clients in the high tech robotics sector he got involved in the TU Delft Digital Innovation Hub for Robotics: RoboValley. Ynse is now combining his work as a business developer at RoboValley with his passion for boats and sailing in the Roboat project at AMS Institute.
"Within ten years fully autonomous boats will be wide-spread in the typical images of the Amsterdam canals"
Ynse Hendrik Deinema
Former Roboat Project Coordinator at AMS Institute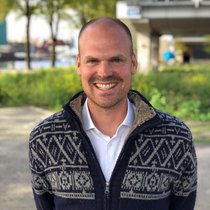 In his free time Ynse is usually sailing with his family in the waters around Amsterdam or in Friesland. Maintaining his sailboat in operational conditions requires loads of DIY, since the boat is from the early 70's, but Ynse enjoys the challenge.
During wintertime Ynse is involved in a small-scale beer brewery and the final product is celebrated during the annual beer festival, which takes place in a 5 x 6 m garden in Amsterdam Noord.
Amsterdam is a great place to live- and work, however the city is facing some serious urban challenges due to urbanization. Ynse wants to contribute to autonomous vessels for urban waterways since they can play a serious role in elevating the pressure on the roads, bicycle lanes and sidewalks.