***Applications are closed for 2020***
The EIT Urban Mobility Accelerator is a EU-funded program in five European regional hubs implemented through partners to take early-stage mobility startups to the next level. The City of Amsterdam, AMS Institute, Technical University Eindhoven and Brainport are part of Innovation Hub West.
The accelerator program is looking for early-stage startup-teams with business ideas that reduce congestion and increase efficiency in the transport system. Innovative approaches to make commuting faster or more enjoyable, concepts to accelerate the transition to low- or zero-emission forms of transport – and with all other possible ideas that help to solve mobility-related problems.
Application requirements
We are looking for early-stage startups from EU Member States and Horizon 2020 Associated Countries with at least 2 FTE and a properly validated, clear, scalable and innovative business idea that solves a mobility-related customer problem. Find out more about the eligibility criteria and the participating countries here. Startups can only apply per region.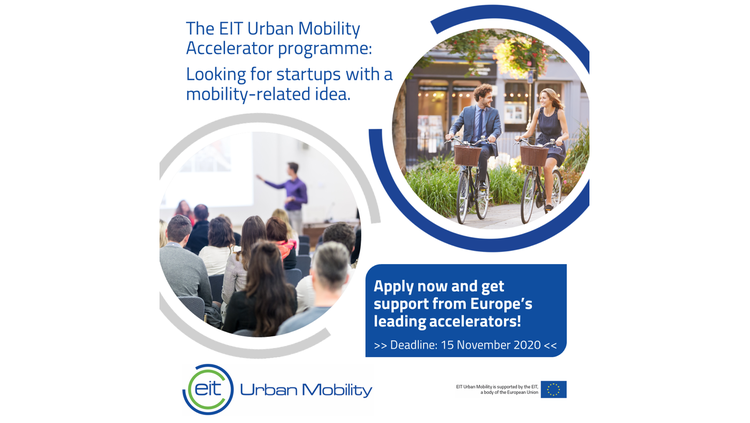 "EIT Urban Mobility Accelerator is a great European platform to get your startup idea to a next level, with the support of a consortium of European mobility partners"
The benefits
€ 15,000 in equity-free funding for your startup
6-month Accelerator program with mentoring, coaching and contacts to customers & investors
6-month office / co-working space (in select locations - depending on the COVID19 regulations)
Direct access to "living labs" and cities for the creation of new products and services
The program will run from January 2021 until the end of June 2021. More information & how to apply here. Application deadline: 15 November 2020
Due to COVID-19 our curriculum has been restructured and all workshops will be available virtually with online sessions and events. There usually are coachings, input sessions and events each week (mostly optional depending on your needs).
Want to know more or looking to collaborate?