Smart Urban Mobility plays an important role in future urban developments to keep the city of Amsterdam livable and accessible. Over the past few years there has been a shift in the field of mobility, moving away from building new infrastructure, to optimizing the performance of existing infrastructure. With the increased availability of mobility data, real-time traffic data and the full-scale adoption of digital technologies, cities are increasingly experimenting with digital mobility management tools, to improve the city's mobility, enhance mobility flows and repurpose the public space.
Research on transport preferences shows that the citizens of Amsterdam don't necessarily feel the need to own a vehicle. They find it more important to get from A to B in a fast, easy, and efficient way. This calls for innovative mobility solutions that stimulate cities and citizens to explore alternatives to (private) car usage. Mobility hubs are one of the potential solutions. Shared mobility hubs are central points in the transport network that seamlessly integrate different options of transportation to maximize first to last miles connectivity. These hubs should offer a better and more sustainable alternative to stimulate citizens to convert from private car owners to shared mobility users. In the long term, this transition to shared mobility is expected to significantly reduce emissions as citizens own fewer cars. The added benefit is that it will free up scarce urban space for other functions and usage.
AMS Institute works on the theme of Smart Urban Mobility and focuses on accelerating the transition by focusing on the following topics:
Transition from 50 to 30km/h: Focus on creating a safer and more liveable city by reducing speeds. We will be measuring the impact of the 50 to 30 km/h change that will take place in 2023.
'Low Car City': Research how we can make the transition towards a Low Car Amsterdam. We investigate how we can activate the city and its citizens for this change and explore the potential alternatives to (private) car usage.
Hubs and Shared mobility: Focus on supporting the transition towards shared and clean mobility and integrate these into the existing mobility network.
IM/Digital Mobility: Experiment with digital mobility management tools to improve city mobility and enhance mobility flows.
Urban transport over Water: Explore the role and use of water infrastructure as an additional mode of transportation to relieve the pressure on the cities road network.
Celebrating the 5-year anniversary of AMS Institute, we are launching a series of long-reads. In attempt to untangle the urban challenges, celebrate successes, collaborations, steps forward, solutions we worked on and the impact we've created over the past 5 years - together with our partners. Read our long read on Smart Urban Mobility here or get a quick overview from this infographic: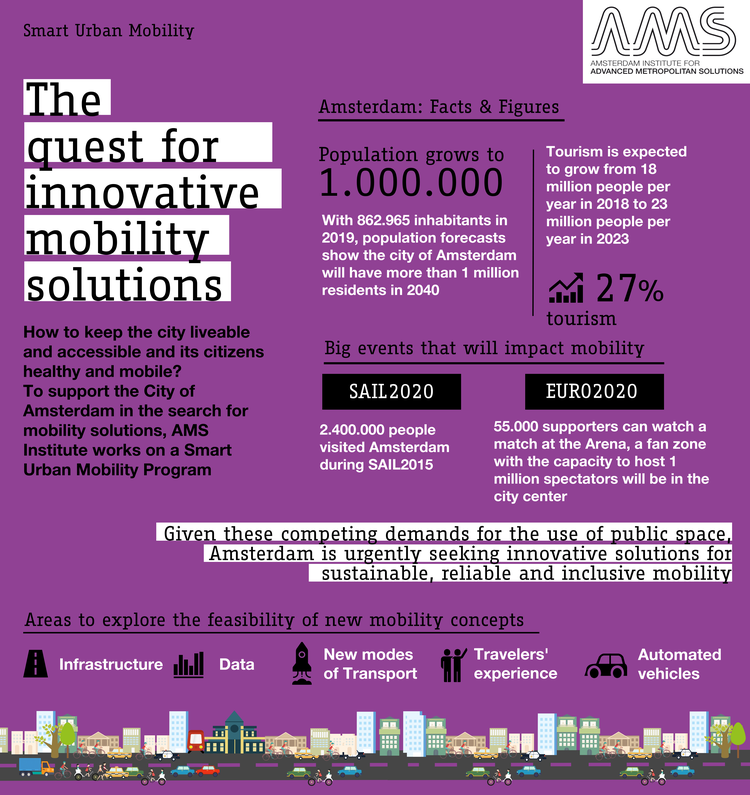 Want to know more or looking to collaborate?
Want to know more or looking to collaborate?
View

everything

projects

news

events

everything

on this theme