New year, new graduates
Two years went by for the students, but finally, they can call themselves MSc MADE Alumni. The hard work got rewarded last week during the Graduation Ceremony which was, unfortunately, an online event due to the pandemic.
Luckily, almost everybody could join the event online and the students were put in the spotlight. All the students got a personal speech from either their supervisor or a MADE teacher. After they signed their diplomas, we recapped their two years at the MSc MADE.
"The master is fully addressing the topic of sustainability instead of using it as a buzzword. Besides, I liked the interdisciplinary approach. I immediately had the feeling the MADE master would suit me well. And it did!"
Ruben Buno Heslinga- MSc MADE Graduate 2021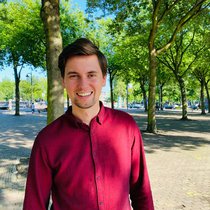 Starting a career
After graduating, all the students will follow their paths. We asked them the question where they are planning to work and we got some diverse answers.
Some are currently busy with the application process, while others are still orientating. Most of them are planning on working as a sustainable consultant at a corporate or smaller business. A few students start working at the municipality of Amsterdam as project developers and public space designers. Others are planning on studying again in the form of a Ph.D. It is certain that they all have a bright future in sight.
AMS Institute wishes all the graduates lots of luck in their future careers and hopes to see them again soon.
Want to know more about our education program?
Questions about MSc MADE?