Home of Innovation – Stories about knowledge transfer, is an annual publication of the Valorization Center of TU Delft. The magazine aims to report TU Delft's activities in the field of knowledge valorization – with as goal to make the best possible use of scientific knowledge and make it available for society.
In addition to the annual publication, the Valorization center also publishes specials in order to highlight very specific subjects or themes.
After a successful third edition of Home of Innovation in which more extensive attention was brought to TU Delft Field and Living Labs, the idea of making a special edition of Home of Innovation entirely dedicated to AMS Institute was born.
In this special you can learn more about the relocation of the institute to Marineterrein Amsterdam and about the way we work with the living lab method. See how city representatives, university and project partners see the value and necessity of having an institue at the heart of the city in order to have technological knowledge reach society. Walk a bit in a MSc MADE student's shoes and find out why this dual master fosters entrepreneurship spirits. Discover what kind of concrete solutions Roboat can bring to the city and why data plays an increasingly significant role for the institue and for the city.
"AMS Institute is delivering concrete solutions for problems that Amsterdam would like to see addressed as quickly as possible"
Udo Kock - Amsterdam Deputy Mayor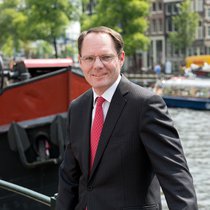 Want to know more or looking to collaborate?