Together with AMS Institute, new solutions for public space will be developed, tested, and put into practice more quickly. This may involve projects that improve collection and reuse of rainwater, greening of public space or buildings, or heat and cold storage. Projects that will make the city more adaptive to extreme weather as a result of climate change.
"There is no time to lose, as there is more and more negative impact from, and damage caused by extreme heat, drought, or heavy rainfall. By making research into innovative solutions an integral part of city maintenance, we can design public space to become more future-proof and climate-adaptive. This will enable us to adapt our city more quickly to changing weather conditions and help other cities to also benefit from this."
Deputy Mayor Laurens Ivens, Public Space and Public Green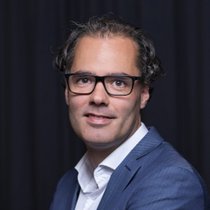 Research projects put into practice
Last year, the City of Amsterdam already worked on various innovative research projects together with knowledge institutions and business partners. For example, the results of the Smartroof 2.0 research project - on the topic of water storage on roofs - have led to the construction of 10,000m2 of smart 'water-storing' green roofs. These green roofs make the city more responsive to extreme weather conditions. And as research into water-storing artificial grass pitches showed they remained even 26 degrees cooler in the heat, the municipality now wants to implement more of these kinds of pitches. They are all examples of how the City of Amsterdam puts innovation into practice.
Science in practice
Since its establishment in 2014, AMS Institute has been working closely with the City of Amsterdam on urban challenges, also on the topic of creating a climate-proof city. The collaboration provides the municipality with direct access to the knowledge and expertise of Wageningen University & Research and Delft University of Technology. New solutions can be put into practice immediately thanks to the collaboration, and scientific research can help to prepare for large maintenance programs. AMS Institute also educates a new generation of urban engineers, who are actively involved in the city's urban challenges. For example, the students have developed a sensor that can measure whether trees need water. By watering trees only when needed, trees stay healthy and a lot of water and manpower can be saved in dry times.
Climate adaptation
Cities are vulnerable to extreme heat, drought, and rainfall. During hot weather, it can be up to six degrees warmer in the city than in rural areas, mainly because roads and buildings retain the heat. Excess rainwater is also absorbed more difficult in the built environment. For this reason, several large projects are experimenting with water management solutions where water is stored on roofs, under or along roads, or underneath tram rails and sports fields. In this way, the stored rainwater can be used to cool the city at times of heat and drought.
Want to know more or looking to collaborate?