Climate change impacts urban areas world-wide, and cities are looking to adapt to the challenges involved. Before taking a look at some of the solutions we design, let's first dive into three examples of climate challenges that pose pressure on the urban environment:
1. Damages due to stormy weather
In the Netherlands, annual rainfall gradually increased from 690 to 874 millimetres in the period of 1910 – 2017. Particularly evident, is the increase in the number of days with heavy rainfall: by 68% since 1951. Furthermore, there's 10 to 15% more rainfall in the largest Dutch cities than in rural areas.
Stormy weather can lead to social disruption and economic damage. To illustrate, last June, a lot of damage was caused by strong gusts of wind and large hailstones throughout the country. The Amsterdam fire brigade had to pull out about 150 times because of the bad weather, and at least 150 trees toppled over.
On average, four to five storms cause 50 million euros in damages per year in the Netherlands. According to insurance company Interpolis, the number of reports of damage to homes due to rain or hail increased by over 20% comparing 2018 to 2011.
2. Temperatures peak at new records
Temperature trends show the heat in the summer increases, and cold extremes in the winter are declining in the Netherlands. Among others, the number of tropical summer days (25 °C or higher) has risen from an average of 9 days in 1906 to an average of 22 days in 2017. Also, heat waves – a minimum of 5 tropical summer days in a row – will occur more frequently: from once every twenty years a century ago, to every two to three years now according to the Royal Netherlands Meteorological Institute (KNMI).
Moreover, densely populated cities, such as Amsterdam, are usually warmer than the surrounding countryside due to a so-called 'urban heat island effect'. This means that heat generated by people, vehicles and the sun is easily trapped by the materials houses, industrial buildings, sidewalks, and parking lots consist of.
As a result, the difference between city and rural temperatures can go up to 4 degrees for a city with 10.000 inhabitants and 7 degrees for a city with 200.000 inhabitants. During last summer's heatwave, the city centre of Amsterdam reached a maximum temperature of 35.7 ºC during the day. At the same time, temperatures on the nature island Strekdam in the middle of the IJ – only 7.5 km from the city centre – river never rose above 29ºC. This is a difference of 6.7 degrees Celcius.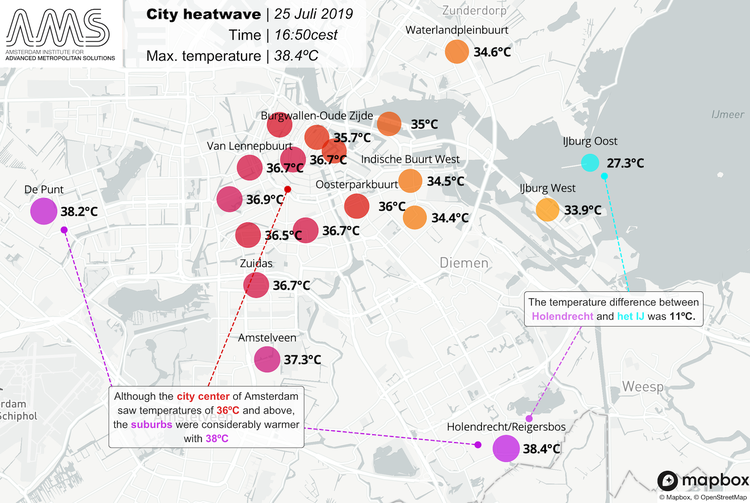 "It is often underestimated how much impact heat stress has on, for example, the vitality and productivity of inhabitants. Understanding the urban climate and the predictability of a city's weather profile is therefore becoming increasingly important."
Program Developer Climate Resilient Cities
3. Air quality and health of citizens
In addition, good air quality is important for our health. The inhalation of air pollutants and gases, including fine dust and nitrogen dioxide, has negative health effects. Air quality is determined by the amount of pollution, in the form of emissions entering the atmosphere, and by the weather. Heat waves often go together with poorer air quality. For example, the formation of particulate matter from nitrogen oxides (NOx) in exhaust gases is influenced by air humidity and the occurrence of rainfall. Furthermore, at high temperatures, wind plays a vital role to ensure pleasant cooling, but also to spread and to dilute air pollution more quickly.
"The mixing layer is thicker during hot days and provides a kind of lid on the city. As a result, air pollution remains trapped in the city longer on summer days and this has an impact on the health of residents."
Senior Researcher
Solutions for a climate-neutral Amsterdam by 2050
Due to increasing urbanization, the number of people having to deal with challenges like the aforementioned is also growing. As a result, Amsterdam, like most cities, has to find solutions to limit the impact of climate change to ensure the quality of life and its resilience. The City of Amsterdam is aware of this, and is committed to become climate-neutral by 2050.
To foster this ambitious goal and connect the objectives to the state-of-the-art knowledge from science, our Climate Resilient Cities research program works on a few different areas of expertise. In short, the entire urban air-water-soil-green system in and around Amsterdam is evaluated.
Questions to be answered by projects in this program for example are: what do rainfall, temperature and wind turbulences look like in and around Amsterdam? How can flooding after storms be predicted and prevented? How could Monitoring & Sensoring technologies gather information about the status of Amsterdam's Quay walls and Bridges?
Ultimately, the aim is to tackle urban challenges by carefully designing and assessing measures that can be implemented to guarantee the quality of life in the city by making the city climate resilient.
And with this long-read, we'd like to give you an overview of four climate-resilient projects that focus specifically at finding solutions for the aforementioned challenges with regard to 1) rain, 2) temperature and 3) air quality in the city.
Celebrating the 5-year anniversary of AMS Institute, we are launching a series of long-reads. In attempt to untangle the urban challenges, celebrate successes, collaborations, steps forward, solutions we worked on and the impact we've created over the past 5 years - together with our partners.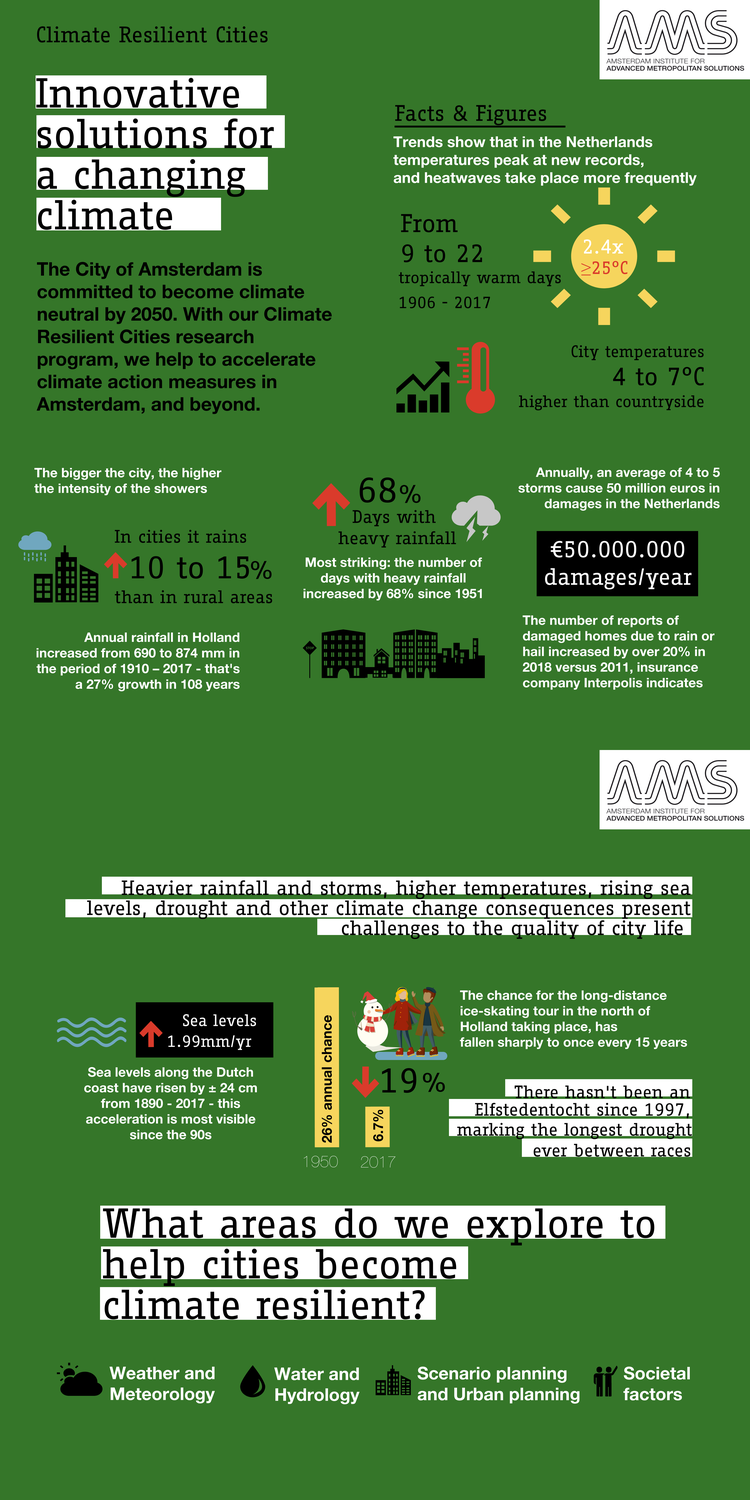 Rainfall and temperature
1.Green roofs to absorb rainwater
Urban green plays an essential role in making Amsterdam a climate-resilient city. Green roofs, for example, ensure better absorption of rainwater, which slows down water discharge into the street. The ageing sewerage system can thus cope better with the increase of rain. Green can also have a cooling effect through evaporation in extreme heat. Also, trees, flowers and plants have a positive impact on human health. They contribute to the liveability of a neighbourhood, providing shade that reduces wind chill and thus improving thermal comfort for residents.
The Green Health Check project developed a tool that helps stakeholders gain insight into the challenges, opportunities and benefits of city greenery. More specifically, the tool maps the health effects of different types of vegetation and even measures the economic value it represents for the city. The Green Health Check helps planners, designers and developers to optimize the use of greenery. Dr Robbert Snep, senior researcher Green City Research at Wageningen University, is involved with the Green Health Check.
"The Green Health Check design tool has translated scientific evidence on urban green's performance for health into scores for different green elements from building up to city scale. This way, it can support stakeholders in selecting those green elements in their urban design. Especially those that are most effective for a range of health issues, such as mental stress reduction, heat stress reduction, social cohesion and active living."
Dr. Robbert Snep | Senior Researcher Green City Research | Wageningen University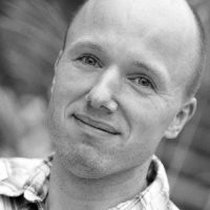 2. Urban water bodies source for heat
A project that researches solutions to cool cities during heat waves effectively is REALCOOL. For a long time, it was believed that urban water bodies help to ease heat problems, but recent research shows that this is often not the case. In some situations, they can even be a source of it. For instance, when shallow or small water bodies heat up in summer and re-enforce the urban heat island when they start giving off heat during the night. Properly designed small urban water bodies such as ponds and canals though can lower perceived temperatures on hot days up to 10 degrees Celsius through a combination of shading, water vaporization, and ventilation. The REALCOOL project designed new prototypes of water bodies in the city that contribute to cooling and have a positive influence on the thermal sensation of the urban environment.
"When water bodies are designed appropriately, with shading, ventilation and evaporation of water from fountains or mist nozzles, these environments can generate better thermal conditions."
Program Developer Climate Resilient Cities
Temperature and air quality
3. Amsterdam's own climate because of unique position
As stated before, rising temperatures are not the only problem in a densely populated city like Amsterdam. Each city has their own wind climate, water balance and carbon budget - an upper limit on total carbon dioxide emissions-, that influence air quality, comfort, urban water management, energy consumption and sustainability of the city. Amsterdam even has a more unique position because it's located in a delta, close to a large lake in the east, and it has a large number of water bodies.
To have a better understanding of the local weather, climate and air, we launched the Amsterdam Atmospheric Monitoring Supersite (AAMS). This network consists of 24 weather stations throughout the city that map the weather in Amsterdam. They provide a detailed picture of the climate in the city at district level. This is important, as there can be remarkable differences from place to place. To give an example: when there is an easterly wind coming from the IJmeer, it can cool the eastern part of the city, but only up to one and a half kilometres.
"With a correct balance of water, greenery and buildings, a 'thermal pull' can be created, which will allow the air to move better through the city. This makes the city's living environment more pleasant and ensures that heat and air pollution disappear more quickly. In addition, water features in combination with shade from trees or greenery can reduce the heat load for residents."
Senior Researcher
The most important findings up till now are that Amsterdam has a substantial urban heat island, but also an urban cool-island in the morning hours. This means that the city remains cooler than the countryside in the early morning because there is a thicker atmospheric layer above the city. "This means that the same heat input by the sun is diluted over the city, which makes the city temporally cooler," explains Steeneveld.
Besides the 24 weather stations throughout the city, AAMS placed one on the roof of a hotel in the centre of Amsterdam. This station measures the incoming solar radiation and various greenhouse gases and calculates the potential for solar energy on the roofs of Amsterdam and the 'carbon footprint' of the city.
"These measurements may help Amsterdam to understand and quantify the greenhouse gas sources from building energy demand and traffic. Moreover, we are now part of a "network of networks in Europe" with the AAMS data, so we can compare the carbon footprint with other cities."
4. Healthier route for bikers and pedestrians
To raise awareness of heat and air quality issues in Amsterdam, we developed an innovative adaptation tool for bikers and pedestrians. It suggests alternative routes to minimize exposure to air pollution. The Healthy Urban Route Planner (HURP) empowers citizens to make a healthier choice in real-time with high-resolution data on forecasts. Each suggestion is based on forecasts for weather and air quality within 100 meters and updated every day. The computer model used for this is unique in the world. The planner offers a healthy (and cooler) route in addition to traditional ones optimized for travel time and distance.
"Nowadays high-resolution weather forecasting models run at 2,5 km grid spacing, which is too coarse for Dutch cities. We developed a model that can achieve smaller grid spacing for Amsterdam and which allows this fine-scale neighbour by neighbourhood forecast."
Climate Resilient Cities program
With projects like these from the Climate Resilient Cities research program, with among others, observational and modelling technologies, we help improve the quality of life in Amsterdam. Guaranteeing citizens' health, air quality, and local water management, together with the City of Amsterdam. All to reach the ambition of the to city become climate-neutral by 2050.
"We want to improve the resilience of the city by finding fiercely attractive solutions to our urgent challenges. Therefore, we work in triple-helix collaborations with knowledge partners like AMS Institute and business partners. Together with AMS Institute, we take the initiative and integrate the principles of resilience thinking into the city's processes, encourage new kinds of cross-sectoral collaboration and support bottom-up initiatives by communities"
Sacha Stolp | Senior Strategic Advisor City of Amsterdam | Department of Engineering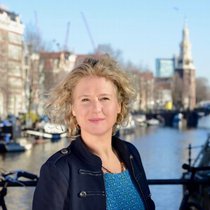 Excited to learn what else we do to help cities tackle urban challenges? Check out these projects:
Want to know more or looking to collaborate?