The Living Labs Microsummit aimed to provide a platform for researchers, scholars, and practitioners in the field of Living Labs to come together and share their experiences, insights, and challenges. Living Labs, a crucial element in the development of innovative solutions for complex urban challenges, have become more prevalent. However, the diverse range of definitions attributed to the term has created confusion and hindered effective collaboration. Some individuals and/or organizations may also use "Living Labs" as a buzzword or for greenwashing, diluting its true significance and potential impact. Thus, the Microsummit aimed to address these issues and foster a joint understanding of Living Labs' purpose, while also encouraging potential collaborations between various stakeholders.
Importance of Living Labs
Living Labs play a pivotal role in addressing urgent and complex urban challenges that require multidisciplinary collaboration. These challenges, affecting multiple domains and stakeholders, demand co-creative solutions. By involving users, government entities, academia, and businesses, Living Labs facilitate the development of innovative solutions that resonate with real-world needs. However, due to the lack of a standardized definition, the term "Living Labs" has been used without specificity, diluting its significance. Thus, the Microsummit aimed to establish a common definition that practitioners from different backgrounds can embrace.
Participants
The Microsummit witnessed the participation of various experts and organizations within the Living Labs domain. Scholars and practitioners included Ursula Eicker and Michael Bossert from Concordia University, Tom McDevitt and Claudia Stuckrath from Utrecht University, Abhigyan Singh, Aksel Ersoy, Ellen van Bueren, and Annika Herth from TU Delft, Tamara Metze from Wageningen University, Stella Archontaki from Vrije Universiteit Amsterdam, as well as the AMS Urban Living Lab and AMS Academy teams.
Part 1: Finding a Common Definition of Living Labs
During the first part of the day, participants engaged in productive discussions to formulate a shared understanding of Living Labs. The sessions commenced with introductory presentations by AMS Institute and Concordia University, highlighting their Living Lab initiatives. The subsequent discussions focused on the importance of having a common definition for Living Labs. Participants recognized that the multitude of interpretations surrounding the term hindered effective communication and cooperation. Establishing a unified definition would align stakeholders towards common goals and foster broader adoption of Living Lab methodologies.
"The Microsummit offered a unique opportunity to combine theory and practice and rethink existing Living Lab definitions. Thus, we agreed that it is crucial to link definitions and visions to specific locations and purposes."
Michael Bossert, Next-Generation Cities Institute, Concordia University.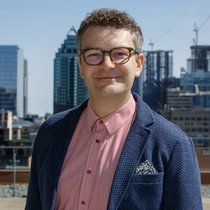 Part 2: Sharing Living Lab Experiences and Collaboration Possibilities
The afternoon session witnessed engaging presentations and round table discussions. Researchers shared their experiences and insights, emphasizing the impact of Living Labs in addressing urban challenges. Notably, Tamara Metze provided a compelling example illustrating the success of a user-centric approach through Design Anthropology. Participants also explored various topics, including the maturity of Living Labs, context-specific considerations, and the role of professional education and tools.
Conclusion and Next Steps
The Living Labs Microsummit concluded with a renewed sense of energy and commitment towards the Living Lab network. Participants expressed enthusiasm about strengthening existing connections and establishing new collaborations. Seeds were sown for future joint experiments in collaborative Living Labs across multiple locations.
The event's outcome will be published in an insightful onepager titled 'What We Talk About When We Talk About Living Labs,' scheduled for release at the end of summer. Additionally, a list of potential collaborations and synergies emerged from the discussions, which could lead to further advancements in the field.