MSc MADE in action
The Master's program MADE aims to train urban engineers who are equipped to deal with the current metropolitan challenges. The pitches are part of the first-year MSc MADE courses: 'Entrepreneurial Skills' (Derek Lomas, Lisa Ploum) and 'Metropolitan Data II' (Ron van Lammeren, Corne Vreugdenhil). This year ten groups were formed. The assignment was to come up with a potential social or sustainable business idea using geodata. This way MSc MADE aims to stimulate its students to develop an entrepreneurial mindset. Each team tried to frame their business idea with a business plan and prototype.
The ideas were pitched to a jury from AMS Institute's network and close partners consisting of:
- Marije Wassenaar (Program Manager New Business Innovations, AMS- Institute)
- Ilona Kemps (Project Lead Startup in Residence Sustainability & Mobility- CTO)
- Raquel Polo Martinez (Global Director Ecosystems and Strategic Partnerships- Arcadis)
The overall winner
This year's winner was a concept pitched by the 'Electrack' group. Current conventional energy sources have a major impact on climate change. The team, therefore, focused on an innovative way of generating energy. Electrack uses Piezoelectric materials that convert vibration and pressure into electricity. This means that it can generate energy when a moving object provides pressure, for example when it breaks, energy can be generated. By placing arrays of piezoelectric materials under infrastructural layers such as pavements and (railway) roads, the vibrations and pressure caused by people and vehicles can be converted into energy. The team reached out to scientists and companies like Prorail, to investigate the potential. The jury was impressed by their use of geodata, extensive research and innovative concept of a local energy source, although the type of energy is debated widely among scientists and energy experts.
"Working in a multidisciplinary team to develop a strategy to implement a technology not yet applied on a large scale, proved to be very engaging. During the project several organizations were positive about our idea and entrepreneurial mindset. This, combined with winning the best pitch of the day, is a great reward for our work together!"
Yannick Schrik, MSc MADE first-year student and co-founder of Electrack, one of the winning projects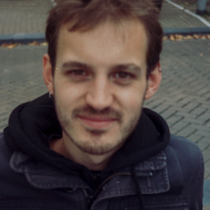 Mind-blowing
The jury was very impressed by the concept of 'Green Paint'. This group came up with a special paint that could make the city of Amsterdam more sustainable and greener. The paint is a growth medium extracted from Agar-Agar. Added to the paint are moss spores and natural hormones. In addition to the aesthetic benefits, moss as a natural product has many advantages for the environment. Moss potentially purifies the air, has a cooling effect, and can serve as natural insulation.
The effects of growing moss on concrete are researched in the Receptive Concrete projectin collaboration with TU Delft.
Worth mentioning
After deliberation, the jury also selected two personal favorites worth mentioning. 'Explanet' and 'Talking Trash' were the lucky ones.
Explanet is an external location, presented in the form of a truck, where children learn about current challenges and potential solutions in the field of sustainability. This learning process is based on interactive games and dynamic experiences. In this way, the team hopes to make young people more aware of and take action against climate change.
Talking Trash concept was also very popular with the jury. This idea focuses on bins in the city of Amsterdam. The group sees problems arising as soon as the litter bins are full, and residents place their waste next to the bin. They have therefore developed an app as a prototype in which residents can indicate which waste bins are full. The municipality then receives a notification and the bin is emptied.
What next?
The winners receive personal support from the jury to further develop their idea into a business if they choose to do so. This way, the students get the chance to turn an idea into a business.
Like to know more about the course?