The AMS Startup Booster program empowers aspiring entrepreneurs with the drive to create impact-driven startups in the urban-tech field. It's all about turning gut feelings into booming businesses! In the past three years alone, the program has "boosted" over 20 teams, unleashing a lot of innovation and potential into the world. If you have an innovative idea and would like to turn it into a startup, you can apply to the next batch until April 9th, 2023! More information can be found here.
But what happens to those entrepreneurs after they get "boosted"? Let's hear it from one of the AMS Startup Booster Alumni: One Ground Studio.
One Ground Studio
One Ground Studio (OGS), is a consultancy that develops data-driven Architecture, Engineering and Planning solutions for flash flood mitigation and adaptation at a neighborhood scale. The startup consists of four students from our master program Metropolitan Analysis, Design and Engineering (MSc MADE), a joint degree from TU Delft and Wageningen University & Research. The startups founders come from all around the world - Gayathri Angou from India, Mariana Bobadilla García from Mexico, Irina Köhrer from Austria, and Wouter Stout from the Netherlands. Their diverse, international, and interdisciplinary background is the strength of this consultancy, which develops data-driven Architecture, Engineering, and Planning solutions for flash flood mitigation and adaptation at a neighborhood scale.
Their journey started in November 2021. During the MSc MADE course 'Entrepreneurial Thinking', the group formed because of a shared passion for flood-resilient design that respects local context and methods. There is no one-size-fits-all solution to protect vulnerable areas and increase their resilience. Therefore, their focus is to closely link data and design to provide the best possible advice for each individual case.
"We are all concerned with sustainable urban development, which is why the increasing frequency of floods caused by heavy rainfall is also in our field of interest. We are especially driven by the fact that this is a growing issue in our home countries."
Gayathri Angou | Founder One Ground Studio | AMS Startup Booster Alumnus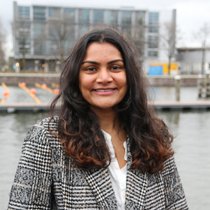 The road towards a first client
When the team joined the AMS Startup Booster program, they were still chasing their first client. An opportunity that they had been pursuing since March 2022. They finally got the communication going with their first client just before the start of the AMS Startup Booster. During the Startup Booster, the team received support in pitching, defining their service line and closing their first client.
Having a prototype and their first client was essential for One Ground Studio. They are currently working on a paid pilot project and a prototype. The former focuses on roof interventions to prevent localized building flooding, while the latter on flood adaptation and explores planning advice for areas in need of flood adaptation strategies. As a consultancy that primarily operates on client projects, having this first pilot with a recognizable client – even if it is a trial project with a subsidized fee – goes a long way in portfolio building. More crucially, they are still a team of four and they do both overhead work and content work among the four of them. This pilot is a deep learning experience in hydraulic-hydrologic modeling, GIS scoping for floods, flood-resilient building knowledge, but also company management knowledge.
Alongside this pilot project, they are also scoping out a pilot prototype. This prototype, shaped as a product rather than a service, is critical to their growth for the same content-knowledge and business development reasons. However, in this case, content knowledge shapes around waterscape governance, flood management, and spatial development strategies, and it will open new doors for client markets that they are yet to tap. In the end, both efforts are critical to their current learning phase.
"We are thankful to the AMS Booster and their team for their support during the later stages of the project proposal draft, our efficient pitch, the definition of our service line and finally closing the client. These skills, as well as the AMS Booster's tips on defining consultancy fees, will go a long way as we continue business development."
Irina Köhrer | Founder One Ground Studio | AMS Startup Booster Alumnus
The journey from idea to first pilot and client has not been without challenges. Project proposal writing, as a first step, was a steep learning curve. The team acknowledges that they are still early on in their business journey, and that they will surely run into new challenges. But, with the AMS Startup Booster's help, the team succeeded in defining their service line, pitching their idea efficiently, and closing their first pilot client. The training curriculum and network provided by the incubator were instrumental in their success.
The power of interdisciplinary collaboration
In conclusion, One Ground Studio's journey is a testament to the power of interdisciplinary collaboration and the importance of addressing urgent societal challenges through innovation and entrepreneurship. As a team of students with diverse backgrounds and expertise, they were able to leverage the resources and support provided by the AMS Startup Booster incubation program to turn their idea into a tangible solution that addresses a pressing issue.
Their journey also highlights the challenges and rewards of starting a consultancy from scratch as they navigated the proposal writing process, pitching, and securing a client. The AMS Startup Booster program played a crucial role in helping them develop their business skills and providing access to a valuable network of industry professionals and mentors.
"We are excited to continue to work with our client and to expand our expertise in the field of flood mitigation and adaptation."
Wouter Stout | Founder One Ground Studio | AMS Startup Booster Alumnus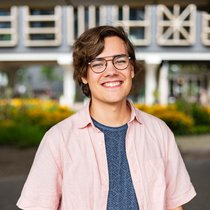 Poised to Make a Significant Impact
As they continue to work on their first paid pilot project and prototype, One Ground Studio is poised to make a significant impact on the field of flood resilience and sustainable urban development. Their passion and dedication to this issue, combined with their interdisciplinary approach, make them a promising addition to the AMS Startup Booster alumni community. We look forward to following their progress and seeing the positive impact they will undoubtedly make in the future.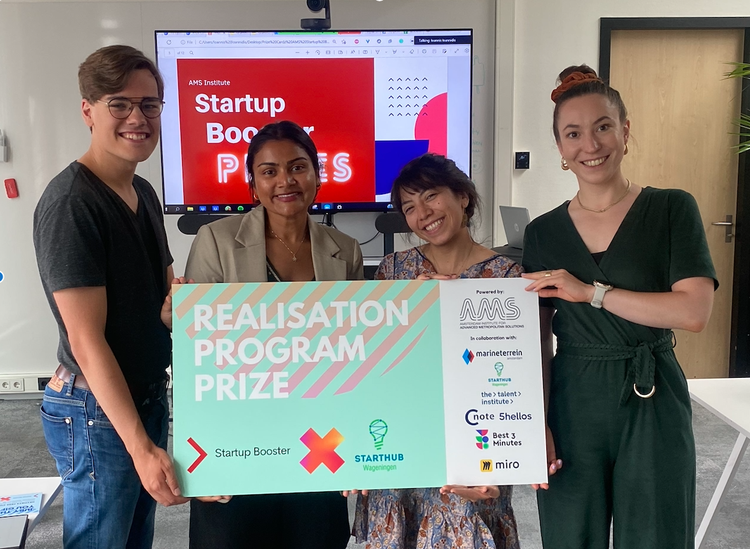 Sign up for the AMS Startup Booster program 2023
Did One Ground Studio inspire you to turn your innovative idea into a sustainable or tech business that solves urban challenges and impacts city life? If so, we have exciting news: applications are now open for the 2023 edition of the AMS Startup Booster program!
Our program empowers ambitious entrepreneurs to bring their ideas to life and take their startup to the next level. Over three months, these entrepreneurs will receive expert guidance from a diverse group of mentors, helping them to eliminate uncertainties, conduct thorough customer discovery, and build a strong team. Our ultimate goal is to help them develop a solid pitch and a minimum viable product, ready for launch in the competitive urban-tech space.
So if you're ready to take your idea to the next level and make a real impact in the world of sustainable urban technology, sign up for the AMS Startup Booster program today. We can't wait to see what you'll achieve!