Last Monday, September 11, we celebrated the opening of the new academic year 2023-2024 at AMS Institute. The event was an inspiring gathering where we delved into this year's theme 'Reinventing Messiness' and explored the perspectives of urban innovators and urban experts on various urban challenges.
During the event, we examined how urban innovators of the future envision solutions to complex urban issues and compared their perspectives with those of established experts. By fostering dialogue and exchange, we aimed to uncover new insights and promote mutual learning. Setting the tone for a year filled with exciting opportunities for learning, growth, connection, and collaboration. Working together towards our shared mission: to reinvent cities.
Embracing transdisciplinary collaboration
The event started with an opening by Scientific Director Eveline van Leeuwen and Managing Director Kenneth Heijns. They gave the new MSc MADE students warm welcome, encouraging them to proactively utilize the community and resources of AMS Institute to make change happen.
"AMS Institute is a place where you can make a difference, whether you are a member of the staff, a scientist or a student."
Scientific Director
After this, three keynote speakers gave their perspectives on 'messiness in the city'. Prof.dr. Caroline Nevejan (CSO of the City of Amsterdam) shed light on the necessity of a healthy research ecology. According to her, research, policy, and other fields should be connected to tackle challenges in the city. At the heart of this, embracing compassion and complexity plays a crucial role. Her presentation concluded with examples of our very own MSc MADE student projects that, according to her, fit these criteria to a T. These projects included IJburg Deep Map and Warm Welcome.
Designing with urban messiness
Prof.dr. Sanda Lenzholzer (Principal Investigator at AMS Institute and Professor of Landscape Architecture at Wageningen University & Research) gave a presentation about open-ended forms of design for interventions in the city. She proposed that, instead of working with a rigid blueprint design, we should work with forms of open-ended design. This way, we accept that the city is often unpredictable and learn to work with this.
"What looks 'messy' often has hidden order."
Full professor Landscape Architecture & AMS PI
Learning from messiness
Stefan van der Spek (Program Director MSc MADE), added an insightful lecture about gathering data in the city, often a 'messy task'. His lecture showcased student projects conducted in Rotterdam and Delft, during which students tracked the routes of occupants from different areas. This resulted in some beautiful data visualizations. Van der Spek summarized a few lessons he learned from gathering city data, emphasizing the importance of thorough storytelling.
The keynotes were followed by a panel discussion between the keynote speakers and MSc MADE students. The ideas of both groups were challenged. For example, second year MSc MADE student Yuval asked a question regarding the presentation by Stefan van der Spek. Can we also analyze data to map the travel routes that were not used? What would the reasons for the absence of these journeys be?
Second year MSc MADE student Thanaphat elaborated on how messiness can be experienced differently on an individual level and gave a humorous comparison between Amsterdam and his hometown, Bangkok. This shed a light on the difference in perspective regarding messiness between the innovators of the future and urban experts. The panel discussion spurred further exchange of ideas during the closing drinks.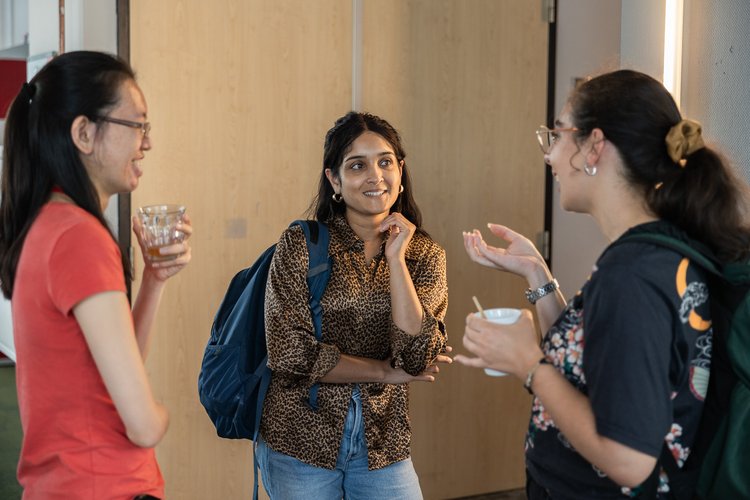 Videos of the lectures and panel discussion will be published on our Event Page openresearch.amsterdam.
Clear Mission
At AMS Institute, our mission is clear: to re-invent cities on a metropolitan scale and make them prosperous, sustainable, resilient and just.
Our ambition is to create sustainable metropolitan solutions by realizing a cross-fertilization of ideas: in our research, innovation and educational activities, but also by creating an innovative environment where connections are made between knowledge institutes, private and public organizations. As such, AMS Institute is uniquely positioned to connect science to societal challenges and solving those together.
Watch the video below to hear firsthand from some of our principal investigators how AMS Institute is doing this.
Stay updated and informed
We encourage everyone to actively engage with AMS Institute and our community of urban innovators throughout the upcoming academic year. Myriad opportunities are awaiting you, from forming valuable research partnerships and participating in enriching educational programs to attending thought-provoking events and workshops. Your involvement not only enhances your own knowledge and skills but also contributes to the collective growth and innovation of our community and the city as a whole.
To stay updated and informed about our latest activities and offerings, make sure to follow us on our social media profiles, Linkedin, Instagram, Twitter, and subscribe to our monthly newsletter at the top of the page. Your involvement and support are vital in helping us achieve our mission.