In a collaboration between AMS Institute, Amsterdam University of the Arts, (AHK) Codam and MIT Senseable City Lab, the Marineterrein in Amsterdam became the hub for an innovative event called the "Stolenbike-athon". This collaborative effort brought together talented software engineering and urban design students to tackle the challenge of tracking stolen bikes in the city. With hundreds of thousands of bikes stolen annually, causing around 600 million euros in damages in the Netherlands, this hackathon aimed to harness the power of emerging technology, youthful ingenuity, and urban analysis to address a prevalent urban issue.
"Solving urban challenges requires a collaborative effort where brilliant minds of tech and science co-create solutions together. The hackathon gives an opportunity for the youth to tackle the infamous Amsterdam challenge: bike theft, and empowers them to build the safe city they would want to live in."
Victoria Ous, Partnerships & Talent Lead, Codam College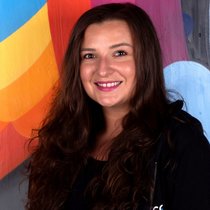 Day 1: Challenges and emotional journeys
The stolenbike-aton kicked off on a morning filled with determination. After an introduction by Victoria Ous (Codam) and Titus Venverloo (MIT Senseable City Lab) at AMS Institute, the students faced the task of finding solutions to combat bike theft at Codam. Throughout the day, teams experienced a rollercoaster of emotions, with fatigue amplifying their dedication and commitment. Mentors invited the students/participants to reflect on their customer segments, users' value propositions for adoption, potential business models, connection with existing services, and privacy aspects. This approach, which was quite new for many participants, added an additional layer of complexity to their already challenging journey.
Coaches provided guidance and support, witnessing the efforts of the teams as they grappled with both the technical and practical aspects of their projects. The intensity of the hackathon took its toll, and some teams even reached a breaking point, shedding tears while grappling with the intricacies of business models and software engineering concepts. The event became a true test of perseverance and resilience. And after a long night of hard work and deep contemplation, the last student closed the Codam door behind him at 3:30 AM, marking the end of the first - very long - day.
Day 2: pitching solutions and celebrating innovation
The second day of the StolenBike-aton was dedicated to pitching ideas and solutions developed by the participating teams. Each group had five minutes to present their concepts, showcasing their creativity and technical prowess. Among the notable team names were B.R.O. (Bike Recovery Operation), Bike Thieves Undercover, AJAX, The Bike Bandits, and Any Potato Is Fine.
The proposed solutions were quite similar in scope, addressing various aspects of bike theft prevention and recovery. Many interesting technical solutions were proposed, ranging from tokens for transferring bike ownership, passive tracking tags, blockchain for authentication, integration with DigiD, to suggesting safe areas for bike parking.
The solutions often included features to allow bikers to authenticate and register their bikes, track them, change ownership, perform legitimate bike purchases, donate their bikes, and alert the community about a stolen bike. The target customers varied between bike users, police, governments, and bike insurance companies. The participants demonstrated their ability to think innovatively and leverage emerging technologies to tackle the problem of bike theft comprehensively.
The event featured prizes such as 1,000 euros and surprise rewards, encouraging an entrepreneurial spirit and the potential for turning innovative ideas into startups. Awards were given for the best commitment, best solution, and best pitch, fostering a competitive yet collaborative environment.
Tackling bike theft in Amsterdam
The StolenBike-athon was a response to the alarming rate of bike theft in Amsterdam, a city renowned for its cycling culture. With over 80,000 bikes reported stolen each year, the knowledge institutes joined forces with MIT Senseable City Laboratory to explore the potential of low-cost, low-energy solutions in preventing and addressing this issue. The StolenBike-aton aimed to extract insights from active location tracking data gathered by MIT and AMS Institute researchers, shedding light on stolen bike travel patterns and temporal behavior. The ultimate goal was to generate tangible products and ideas that the City of Amsterdam could employ to combat bike theft effectively.
Stakeholders and deliverables
The StolenBike-athon brought together a diverse group of stakeholders, including bike theft policy advisors from the City of Amsterdam, the Amsterdam Police, insurance companies, bike producers, and cyclists themselves. The hackathon's deliverables included engaging presentations and pitches, innovative product ideas, and scripts written for data analysis and visualization. By involving these key players, the event sought to foster collaboration and collective action towards reducing bike thefts.
"The hackathon was a great opportunity to address one complex urban challenge by developing potential urban tech solutions that can be further incubated in our AMS Startup Booster."
Urban Living Lab Developer
The stolenbike-athon stands as a testament to the power of collaboration and the potential for multidisciplinary approaches in addressing complex urban challenges. Through the joint efforts of AMS Institute, Amsterdam University of the Arts and Codam students, a diverse group of future innovators in software engineering and urban analysis contributed their expertise and creativity towards making Amsterdam a safer city for cyclists. The event exemplified the importance of nurturing and empowering future talent, fostering cross-disciplinary collaboration, and leveraging cutting-edge technology to shape a better and more secure urban landscape.
Want to know more or looking to collaborate?
Looking for support to boost your urban tech idea?