PROGRAM UPDATE
This year's Summit will work on four leading themes: The Innovation Arena, Scoping and Scaling, Crossing Boundaries and Breaking Barriers. Find the full day program below, filled with presentations, workshops, living lab tours and open discussions. And don't forget to claim your seat as in-person tickets are limited. Tickets are for free and you can order them below;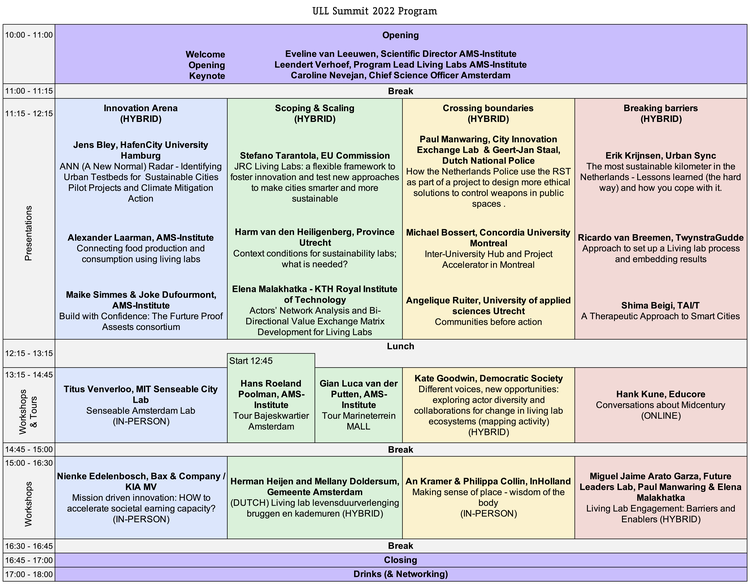 Living Lab Essentials
Living labs have proven to be a successful approach for local and regional innovation, while at the same time aiming for co-creation and learning to make a lasting change and create knowledge for further expanding of urban innovative solutions. To enable new participants to gain basic knowledge on Urban living Labs, we also offer an Urban Living Lab mini-training. So, are you starting your own living lab, or are you getting involved? Are you just interested in ways how to experiment in an urban context? This Urban Living Lab pre-summit is something for you.
This pre-summit event is Monday, June 20 2022 from 13:00 to 16:30 CET time.
>>> For more information and registration, click here.
More info and tickets
The ULL Summit will be held in a hybrid format. In this way, you can participate to this event IN-PERSON at the AMS-Institute (limited tickets available)! Or do you prefer the online setting or is travelling to Amsterdam not an option? You can also join ONLINE. Both options will give you access to the presentations, workshops. Certain activities such as tour will not be available online, but we do our best to make it a worthy experience.
Get your ticket here:
Please follow the AMS newsletter and socials for latest updates. We are looking forward to your contributions to the ULL Summit and hope to see you on the 21st of June!
Want to know more or looking to collaborate?
The Program Committee
Selection committee
Nienke Edelenbosch, Bax & Company
Saskia Ruijsink, Centre for Sustainability – TU Delft
Michael Bossert, Concordia University Montreal
Hans Roeland Poolman, AMS-Institute
Arjen van Nieuwenhuizen, AMS-Institute
Dennis Wasch, CTO Amsterdam
Organizing committee