In the graduation year of our master's degree Metropolitan Analysis, Design and Engineering (MSc MADE), the students participate in Urban Living Labs to gain Living Lab experience in a real-life setting. During the Living Lab course, they work together with multiple stakeholders to test, develop and create metropolitan solutions.
Last week, after many co-creation sessions, research, stakeholder interviews, design, and product development, no less than 16 student teams revealed their urban solutions and prototypes in a festive online opening of the Living Lab exhibition.
"During the Living Lab course, the students are connected to partners in the AMS Institute network, or in some cases even create new connections. This year, the students organized a festive online gathering, during which they inspired us with their living lab results."
Nina Bohm | Research Fellow & Co-coordinator Living Lab | Delft University of Technology (TU Delft) & AMS Institute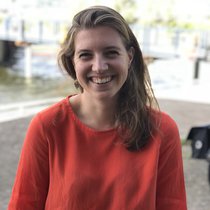 16 Living Labs in the city of Amsterdam
Whether it's the exploration of waste separation with ARTIS, painting a picture what the future of mobility looks like with MIT, investigating thermal energy recovery with Waternet and PWN, or the development of climate indicators with the City of Amsterdam. You'll be sure to gain new insights from this year's student Living Labs. A few cases are summarized below, and we invite you to explore all Living Labs here >>
"The Living Lab students set up a community of dozens of artists working on wood. Not only was it a remarkable achievement, but it's also something that lives on after this living lab and might alter the power balances in future discussions between the municipality and different other stakeholders."
Mart van Uden | PhD Researcher | Delft University of Technology (TU Delft)
"The students should be extremely proud of the overall achievement of getting a relatively big project done in such short amount of time; including many different viewpoints and many different methods to better understand the challenge they have been working on."
Lisa Ploum | Academic Coordinator Entrepreneurship | Wageningen University & Research (WUR)
Waste Separation Innovations
ARTIS strives has set its own sustainable mission to reduce its residual waste flow to less than 5% by 2030. One challenge that needs to be addressed in this mission is the current large residual waste stream of disposable drinking cups in the catering industry of ARTIS.
The overall goals of this Living Lab was to set up a list of guidelines that should be considered when implementing a circular system for drinking cups in ARTIS in order to reduce the amount of residual waste in the park. To reach this goal, a circular system of drinking cups had to be tested in the enclosed system of ARTIS, to see how visitors and staff would react. Learn more about this Living Lab >>
Thermal Energy Recovery
Thermal energy recovery from water transported by the WRK could serve as one of the natural gas free alternatives for municipalities along its trajectory to becoming climate neutral by 2050. Located in the provinces North-Holland and Utrecht, this Living Lab assessed the potential, possibilities and municipality interest for extracting heat and cold from WRK infrastructure. Read more about the case here >>
"As always, we witnessed the beauty of the co-creation process. What made me more than happy is that a few job offers for our Living Lab students were also on the (co-creation) table."
Ljiljana Zlatanovic | Policy Advisor Drinking Water | PWN
"The students brought a great deal of professionalism and capacity to self-organize to the table. They knew how to surf organizational structures and how to connect with all the different stakeholders they had to work with for their project."
Felipe Bucci Ancapi | PhD Researcher | Delft University of Technology (TU Delft)
Quay Walls
About 200 kilometers of quay walls in Amsterdam have to be renovated in the coming years. The goal for this Living Lab was to find innovative ways in which the municipality of Amsterdam can better involve residents in quay wall renovations.
Better involving quay wall residents requires the municipality of Amsterdam to understand these residents and to co-create with them. During this Living Lab, we therefore tried to create mutual understanding between the municipality of Amsterdam and the quay wall residents. Learn more about this Living Lab here >>
Climate Cost Model Amsterdam
The City of Amsterdam is looking for ways to integrate climate cost in their decision making process. This Living Lab developed a Climate Cost Model for the Engineering Bureau of the City of Amsterdam. This model estimates climate damage costs in order to prioritise redevelopment projects. Continue reading about this Living Lab >>
Greening the City
In 2020, Urgenda began the 'Meer Bomen Nu' (i.e. More Trees Now) campaign as saplings - the babies of trees and bushes - are being removed from forests and thrown into the shredder. Saplings tend to be cut away due to regular forest management as there is either an overabundance of one species or to make way for ground plants or other uses.
Urgenda believes that transplanting these wasted saplings can be the solution to decelerate climate change, restore biodiversity and have a positive impact on neighbourhoods. This Living Lab tried to add a method to the Meer Bomen Nu campaign that can successfully help with finding new planting sites to contribute to climate adaptation in cities. Learn more about the case here >>
"The students showed that greening the city can and should be more inclusive. For example, in neighborhoods where the impact of heat stress is relatively higher and where the general income is lower, it is harder to mobilize inhabitants for greening the city."
Josephine Schuurman | Urgenda
The Future of Mobility
Around the world, droves of young people are adopting new methods to move around. For select demographics, on-demand shared rides, micro-mobility, and digitally multi-modal trips are capturing a significant amount of riders. The modes come together in an overarching integrated vision for our transport systems: Mobility as a Service (MaaS).
These new developments promise the potential for de-carbonization of mobility systems, reduction of car-dependence, and other benefits such as the freeing of limited urban space. This Living Lab investigated the accessibility of MaaS for a specific group of urban dwellers: elderly. Read more about this case >>
"The students would always bring significant amount of work to the table, and to organize data collection as they did was challenging, but they persevered! We learnt the real difficulties that elderly have in moving around Amsterdam. This was touching, and grounded the project in a real challenging issue for cities."
Tom Benson | Research Fellow | Massachusetts Institute of Technology (MIT)
A waste-based bio-degradable material 'Re-plex'
With the increasing scarcity of raw materials, the hunt for renewable resources is on. Re-plex is a 100% waste-based material known for its biodegradability. This Living Lab investigated ways to use Re-plex for nature restoration purposes.
By creating support structures that can help young aquatic plants find their roots, or organisms such as oysters and mussels to settle on, we can increase the success rate of nature restoration efforts. If these structures are fully biodegradable, there is no need to remove the structures once they become obsolete, which could disturb the environment that was just restored. Learn more here >>
Living Labs are at the core of AMS Institute
In Urban Living Labs, multiple stakeholders jointly test, develop and create metropolitan solutions. The goal within the Urban Living Labs is to make impact by developing new products on a small scale – be it an object, a service, a technology, an application, or a system – and to find solutions that can be implemented on a larger scale.
All aforementioned projects are part of the Living Lab course of the master Metropolitan Analysis, Design and Engineering (MSc MADE), a joint degree master of Wageningen University and Research (WUR) and Delft University of Technology (TU Delft). In terms of topics and content, the master's is closely linked to the activities of AMS Institute, home for the students and the MSc MADE education activities.
"I was surprised how quickly the students became engaged with a new topic so fast. Really great to see how emerging themselves in the field and interviewing many key players they got up to speed with the topic of stakeholder engagement."
Marijke Rommelse | Sustainable urban development consultant | Kickstad
During the Living Lab course, MSc MADE students work together with partners from the city and AMS Institute's network on solutions for a wide range of urban challenges. Allowing them to gain Living Lab experience on various urban challenges in a real-life setting. They work from an interdisciplinary approach, and with their projects they design solutions to contribute to a sustainable and liveable city.
This year, the students transformed their Living Lab products and stories to make them completely accessible online. Visit the website to read all about their results >>
The Urban Living Lab course is always looking for new cases. Please find more information about submitting your case here >>