Our Startup Booster program helps aspiring entrepreneurs who want to pursue an impact-driven startup in the field of urban-tech by turning their gut feeling into a business. With 7 teams 'boosted' during the second run of this program, it's time to look back. How are the entrepreneurs doing now? Let's hear it from The Leaf.
"By creating climate-adaptive pergolas that can be placed over city squares, notable amounts of greenery can be added relatively fast whilst using minimal space above and below the ground level.""
Hugo Mohr | AMS Startup Booster Alumni | Founder of The Leaf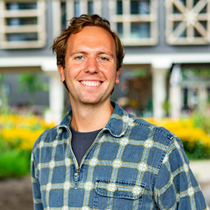 Up in the air there's enough space for urban greenery
Urban greenery helps to reduce heat stress. Did you know that, for example, it can be up to 2 degrees cooler in Amsterdamse Bos than in the rest of the city? So, if we know this, why don't we place as many trees as we can in our urban environments.
Well, next to climate change, a large challenge many cities face is a lack of (public) space to add greenery. To illustrate, placing a tree not only requires space above ground. Even more space is needed below ground, which is already full of sewage pipes and cables
The Leaf 'looked up in the air' and saw an abundance of space left for greenery in cities. Now, this boosted startup develops climate adaptive pergolas. These constructions covered with greenery can, for example, be built over city squares. As such they require little space on and below the ground.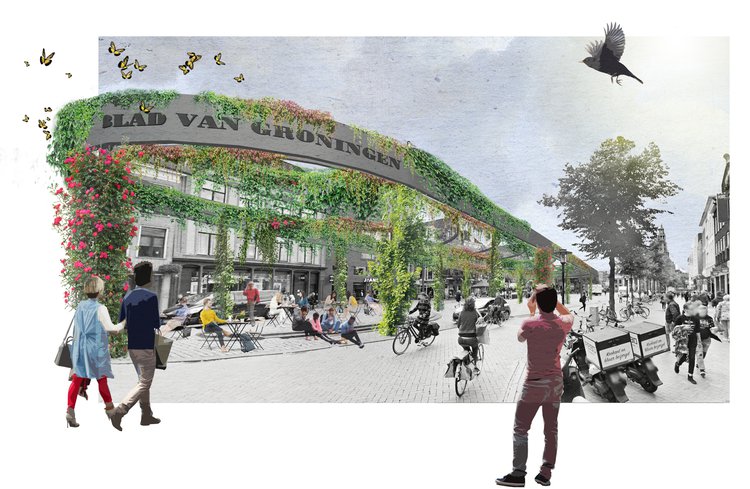 A multidimensional solution for climate adaptivity
The pergolas from this startup, called 'Leafs', give a boost of vegetation, provides shade and natural cooling. Furthermore, the Leafs provide a habitat for insects and birds, and as such gives room for urban biodiversity to grow.
In addition, a Leaf improves water management. Since the pergolas' retention systems are built underneath the construction this allows for easier infiltration of water into the ground. Ultimately, reducing the pressure on sewage systems and risks of flooding. 
Last but not least, each Leaf will be equipped with sensors that measure different parameters such as air quality, temperature and amount of water captured.
"With the help of sensors, we can quantify the effect of a Leaf. This data will be displayed on an interactive screen on the pergola. By doing so, it will engage and educate people on climate adaptation and how to take action themselves. Altogether, the Leafs will breathe new life into city centers and create a beautiful oasis of nature."
Gijs Verkooijen | AMS Startup Booster Alumni | Founder of The Leaf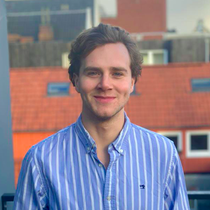 How The Leaf got 'boosted'
Through the continuous workshops that are offered in the AMS Startup Booster program, this team learned a lot about customer groups and had the opportunity to strengthen their value proposition. In the weekly sessions and assignments, the founders were guided in their customer research, allowing them to identify different customer groups and their specific wants and needs.
With the findings of this research, the team adjusted the product accordingly and created a strong foundation for the further development of the Leafs. Through multiple workshops and sessions about value propositions, business cases and pitches, they learned how to clearly and convincingly convey their story to anyone. 
"One of our key lessons was to really determine a focus for our product and to consistently keep that focus. Also, it has taught us that you should always go out and check whether the assumptions you have made are valid. By doing so, we have also learned to explain our idea and product in a simple and effective way."
Hugo Mohr | AMS Startup Booster Alumni | Founder of The Leaf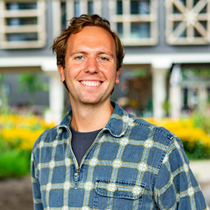 What's next for The Leaf?
Now that the Booster program is finished, The Leaf will continue the development of their product for which the knowledge acquired within the Booster program will form a solid basis. At the end of last year, they were granted a subsidy for further development of their product. This feasibility research, in partnership with the University of Applied Sciences in Groningen and the Municipality of Amstelveen, will focus on designing and building real size prototypes which allows The Leaf to do initial testing to validate their products.
As part of the Booster prize, The Leaf has also received further support from business coaches and experts within the AMS network which will guide them along the way in their steps towards their first product.
Sign up for the AMS Startup Booster program 2022
Did The Leaf inspire you to boost your idea for a sustainable or tech business that impacts city life and solves urban challenges? We're looking for ambitious entrepreneurs to join our 2022 edition of the program!
With this program, we help you to turn your innovative ideas into reality and bring your startup to the next level. During a period of 4 months, you receive guidance from a diverse group of experts, we help you eliminate uncertainties, do a thorough customer discovery, and form a strong team. Ultimately, our aim is for you to venture out with a solid pitch and minimal viable product.
Want to know more or looking to collaborate?