Bloomberg Citylab
Bloomberg CityLab, the preeminent global cities summit organized by Bloomberg Philanthropies in partnership with the Aspen Institute, is bringing together global mayors alongside prominent city innovators, business leaders, urban experts, artists, and activists to discuss and discover replicable solutions to pressing issues – from leading their communities through pandemic recovery to welcoming refugees from global conflicts to combatting climate change.
Past CityLab conferences have been hosted in New York, Los Angeles, London, Miami, Paris, Detroit, and Washington, D.C. This year the Citylab was in our very own city. Taking place in Amsterdam, programming showcased innovations unique to Europe and explored the shared hurdles and possibilities faced by cities and towns around the world as they look towards recovery and create opportunities for people and communities to thrive. 
Field Visit
A full program was put into place to let the visitors experience the vibrant mix of AMS Institute.
Managing director Kenneth Heijns welcomed the group of Bloomberg CityLab attendees to AMS Institute. During a brief plenary introduction, Kenneth underlined the interdisciplinary approach of AMS Institute and explained the philosophy of the city. Emphasizing that scientists 'fly in' from top notch universities TU Delft, Wageningen University & Research and MIT to tackle the challenges of the city - and create sustainable solutions to make cities more sustainable, resilient, and just. After the introduction it was time to explore the multiple facets of AMS Institute. With a wink, Kenneth concluded that there will be a lot of stairs involved, as the program zigzagged across the 4-story building. The group split into three, each moving to another floor to continue the program in a carousel format.
On the ground floor, Ynse Deinema and Jasper Middendorp welcomed the delegation on the quay. Ynse is involved in Roboat, a research project of MIT and AMS Institute. Ynse explained that Roboat is an autonomous navigating and self-learning boat which develops its skills based on all interactions on the water. To navigate in a city or busy harbors, the boat must be able to react and maneuver well within a limited space. To scan its surroundings and make a route, Roboat uses LIDAR and cameras to have a 360-degrees view. Current testing takes place at AMS Institute in the inland water of Marineterrein Amsterdam Living Lab, giving the visitors the opportunity to get aboard Roboat and cruise around.
Jasper was pleased to invite the group into the Makerspace, the place at AMS Institute where - as the name suggests - the researchers explore, test and make. In the Makerspace, Jasper 3D-prints with organic waste. He does this by taking organic waste streams - such as grounded oyster shells, or waste water from which calcite has been drawn - and turning them into paste that can be used for 3D printing. 3D printing is often done with plastics - requiring a lot of heat, energy and of course… plastics. So, Jasper makes materials which are fully bio compostable.
Both Roboat and Reflow (3D printing) have gone from research to prototyping and engineering to actual validations and experiments in the city - Amsterdam. This involves close collaboration, not only with the city of Amsterdam, but also with the business community. Both processes have accelerated and made it possible to link urban challenges with knowledge development. The development of new technology and solutions are based on local, large scale, and urgent urban challenges, which are essential not only in Amsterdam but for cities worldwide. In light of this, the Roboat and Reflow are a prime examples of how AMS Institute accelerates significant transitions to create a more sustainable and livable city.
"This is what I think the magic of MSc MADE is – its not only urban planning, not only engineering, not only data science. And its not only at the product/building scale. At AMS Institute you fluidly move between the product/building to systems & city levels"
Gayathri Angou - President MADE IT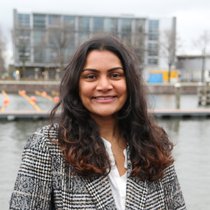 On the fourth floor, Arjen Zegwaard welcomed the visitors with a brief pitch about the Master program Metropolitan Analysis, Design and Engineering (MSc MADE), a joint degree from TU Delft and Wageningen UR, housed at AMS Institute. Using spaghetti as a metaphor, Arjen underlined that MSc MADE is an example of what education in the future may look like - educating a new type of engineer: being entrepreneurial, reflexive and action oriented. At MSc MADE, professionals are educated that deal with uncertainty, ambiguity, contingency and plurality. These professionals are therefore still able to work towards solutions and take decisions while being fully aware of the limitations of knowing.
Gayathri Angou is the president of student association MADE IT and second year MSc MADE student. In an impressive presentation she took the audience along her international academic and professional background in mechanical engineering & renewable energy. Gayathri applied far and wide for while looking for graduate programs (with socio-technical aspects regarding city design), but no program stood out as much as MSc MADE did. MSc MADE is unique because of its a socio-technical education. Gayathri explained that the 1st year is broad introduction to urban along with analytical tools like data science and policy research. This provides a foundation to then dive deep the second year. Here, most students focus on a specific urban topic / niche. Thus the 2-year structure of going broad then deep, is unique to MADE and opens a wide range of employment opportunities after.
"Student teams seem to be very engaged in the delivery of the projects which was impressive. For those of us to recruit the best minds in public services its such people that express they want to do what they learned here at AMS that we need. To be expansive, take risks and innovate."
Mary Sue Barrett - Brookings institution Chicago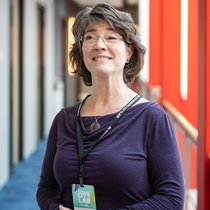 In the middle of the building, Irene Luque Martin (program manager circularity in urban regions) and Martijn Lugten (Research Fellow circularity in urban regions) awaited the group. Irene spoke about the circular program and unraveled the myths of timber construction… Afterwards, Martijn spoke about the Urban Comfort Lab where he does research in methods to reduce noise, heat stress and air pollution through urban design.
Last but not least, our Scientific Eveline van Leeuwen closes the visit by highlighting the power of collaboration. How, within AMS, we are learning how to collaborate within the triple helix and actually apply it within the city. Learning so much about the added value for all parties. She also invites the participants to reach out if they want to learn more.
"The spaghetti structure of this institution is really inspiring. This is an institution that does not sanitize things and cut them apart but at AMS institute the real dirtyness of problems seem to be embraced"
Tim Moreland - Deputy Admin City of Chattanooga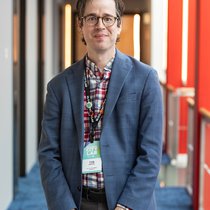 It's a wrap! This handful of highlights already excites us for what the future holds with regard to our educational activities, entrepreneurial ideas that we'll see flourish into start-ups, and innovative solutions to be designed by our community of experts with and for the city.