Over a period of four months, students from the AMS Institute worked in a "living lab" at ARTIS to explore new products that could be made from elephant dung. Since Asian elephants produce the largest volume of organic waste in ARTIS, the students were able to collect approximately 300 kg of dung each day. As plant material is difficult to digest, the dung still contains many nutrients that can be repurposed.
The bench is made up of 65% elephant dung and 35% recycled plastic. The dung itself is a useful material due to the elephant's plant-based diet, which means that the dung is high in fiber. To create the bench, the team partnered with a company experienced in working with plant fibers, such as agricultural waste, to test and refine the material. The result is a unique, durable, and sustainable park bench that has already been installed in ARTIS Park overlooking the Asian elephants' enclosure.
"While the drying process makes the smell go away, there is something charming about the spectacle of people sniffing a bench before taking a seat."
Evelien Dekker - MSc MADE Student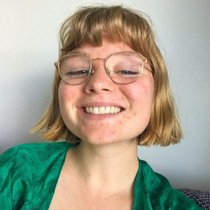 The students experimented with different techniques, drying the manure on makeshift pallet constructions and in a second-hand microwave oven before pressing it into a heat press. The result is a sturdy bench with a unique pattern, thanks to the coarse texture of the elephant dung. The collaboration with Circulus, a company that specializes in producing street furniture from roadside grass, ensured that the bench was produced sustainably and with a focus on minimizing waste. Any broken parts of the bench are either replaced or returned to a form in which they can be reused.
As Evelien Dekker, one of the MSc MADE students in the team, explains, the bench has a dual purpose. First, it offers a circular solution to ARTIS's waste stream. Currently, the elephant dung is composted, which is a useful way to recycle the waste. However, the bench offers another way to make use of the waste, in this case by creating a useful product. Secondly, the bench is designed to stimulate discussion and awareness about the circular economy. By showcasing the bench, ARTIS hopes to inspire visitors to think about how waste can be turned into valuable resources, rather than simply discarded. If the prototype proves successful, the goal is to eventually replace all park benches in ARTIS with this sustainable model.
ARTIS has been exploring ways to convert valuable raw materials from animal dung into new products. Some of the elephant dung is already being transformed annually into "bokashi," a mixture of manure, plant residues, and microorganisms that ferments into a soil improver. The remaining manure is then composted at a local farm near Amsterdam.
Want to know more or looking to collaborate?
For media inquiries, please contact: