The AMS Startup Booster program is all about empowering aspiring entrepreneurs with the drive to create impact-driven startups in the urban-tech field. We're talking about turning gut feelings into booming businesses! And let us tell you, we're proud to have "boosted" over 20 teams in the past three years alone - that's a lot of innovation and potential unleashed into the world. Do you also have an innovative idea, and would you like to turn that into a startup? You can apply to the next batch until October 1st, 2023! More information can be found here.

Are you curious what happened to those entrepreneurs after they got 'boosted'? Let's hear it from one of the AMS Startup Booster Alumni: The Leaf.
"Through the AMS Startup Booster you become an integral part of the AMS Institute and its pool of metropolitan experts. This community of innovators pushed us forward and helped us with positive and inspiring 'can do' mindset."
Hugo Mohr | Founder The Leaf | AMS Startup Booster Alumnus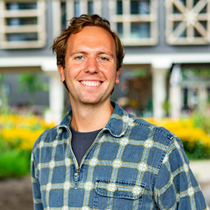 The need for greenery in urban areas
The Leaf's mission is to bring greenery to the city, integrating their solution without disrupting the built environment. Cities are densely built, with high levels of paved and impervious surfaces. This leads to increased temperatures in the urban environment as these surfaces retain heat from the sun longer. Next to that, these paved surfaces result in an increased risk of flooding from rainfall, as water cannot infiltrate into the ground easily. Next to these two challenges, the startup looks at boosting the extremely valuable ecosystem services of flora and fauna in urban areas.
Adding greenery is an excellent solution to the challenges mentioned above, however municipalities struggle with implementing more greenery due to several reasons. They struggle to create enough space above and, more importantly below ground. City squares, for example, are used for various activities that require space above but also below ground level, as a considerable amount of space is needed for pipelines, cables, sewage systems, etc. Therefore, there is often not enough space below ground for trees routs. In addition, municipalities have a hard time measuring the effect of the greenery installations, and they are looking at ways to activate citizens' awareness and make their gardens greener and climate-adaptive.
The challenges municipalities face with urban greenery
The Leaf's solution is a climate-adaptive and smart pergola design that integrates greenery into urban spaces. The pergolas are designed to provide shading, insulation, and rainwater management, while also incorporating planting space for greenery. The design also includes smart sensors that can monitor the amount of water stored and temperature reductions and display this to people walking by as a form of education and engagement.
While the idea was innovative, convincing city officials to take a chance on the new design was not easy. The Startup Booster program provided founders Gijs Verkooijen and Hugo Mohr with the tools, resources, and mentoring they needed to move their idea from concept to reality. But above all, the program ensured that the team identified their target market segments and validated the need for the product through problem-solution fit validation.
"As an entrepreneur, the AMS Startup Booster program helps you structure and validate your idea while identifying your customer segments. It allows you to pinpoint exactly what your customers are struggling with, and when you see that you are hitting the nail right on the head, it's really cool."
Gijs Verkooijen | Founder The Leaf | AMS Startup Booster Alumnus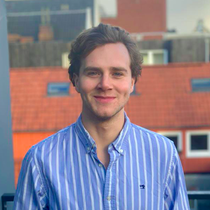 Empowerment through the Startup Booster program
The program gave The Leafs founders the confidence to pursue their idea and the guidance to navigate the complex regulatory landscape. The program also connected them to industry professionals who provided valuable feedback and support. This leaded to two major milestones. Gijs and Hugo were able to complete a subsidized research project with the University of Applied Sciences in Groningen, which allowed them to build prototypes and do initial tests to validate their project. The research project helped them to show the Municipality of Amstelveen that their products were proven to work, which led to the approval of a pilot project.
As The Leaf continues to grow and make an impact on urban environments, they remain dedicated to their original mission of creating a sustainable and green future for city centers. They hope to continue partnering with municipalities and businesses to implement their climate-adaptive and smart pergolas and make a positive impact on urban environments around the world.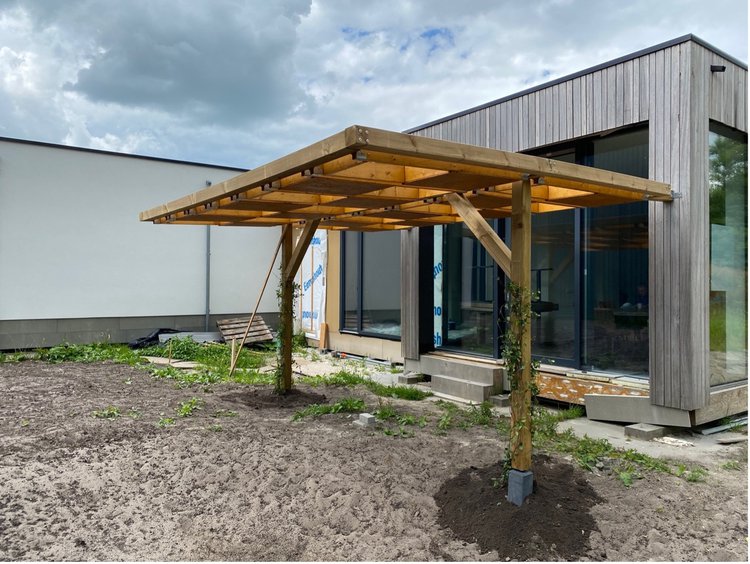 Sign up for the AMS Startup Booster program 2023
Did The Leaf inspire you to turn your innovative idea into a sustainable or tech business that solves urban challenges and impacts city life? If so, we have exciting news: applications are now open for the 2023 edition of the AMS Startup Booster program!
Our program is designed to empower ambitious entrepreneurs to bring their ideas to life and take their startup to the next level. Over a period of three months, these entrepreneurs will receive expert guidance from a diverse group of mentors, helping them to eliminate uncertainties, conduct thorough customer discovery, and build a strong team. Our ultimate goal is to help them develop a solid pitch and a minimum viable product, ready for launch in the competitive urban-tech space.
So if you're ready to take your idea to the next level and make a real impact in the world of sustainable urban technology, sign up for the AMS Startup Booster program today. We can't wait to see what you'll achieve!