Our Scientific Conference afternoon program included over 50 presentations, workshops and special sessions, making it a tough task to choose which one to attend. Luckily, we had a team of editors present at various sessions to record and bundle the multi-disciplinary insights and inspiring innovations on how to take actionable steps towards sustainable urban transformations.
Now, you can browse the collection of reports on a great variety of presentations on openresearch.amsterdam! And for those of you who could use a little guidance on where to start, with this article we present to you our selection of nine highlights from the afternoon program at the AMS conference Reinventing the City.
Day 1 | Future City | What does it look like?
As the first day revolved around the theme 'Future City', we discussed the challenges cities face - linked to the energy transition and sustainable food systems for instance - and the change that is required to make our cities sustainable. The three afternoon sessions below are a perfect example of how our community of experts envisions what the future city looks like:
1) Virtual co-design session for the monitor of the circular economy
The City of Amsterdam want to use 50% less primary, abiotic, raw materials by 2030, and launched the monitor of the circular economy to track developments in this field. During the session at the conference, the goal to develop services for different stakeholders to recognize themselves in material streams was chosen and attendants worked on designing solutions for this challenge. Ultimately, this session can be used as an inspiration to develop partnerships and work towards full circularity in 2050. Read more here >>
2) Potential of Urban Green
During this session, 3 papers on the topic of urban green were presented under moderation of Sanda Lenzholzer. A study on the technical potential of green roof systems was presented, highlighting a case study in Amsterdam. Furthermore, a spatially explicit model that helps planners prioritize areas for green infrastructure was presented, and the presenter discussed its application on the situation in The Hague. Last, the possibility of using preschool gardens as a tool for cooling cities as they are becoming increasingly hot was discussed during a presentation which took the city of Poznán as an example. Continue here >>
3) MET Forum: Bike-sharing Futures in Amsterdam
Amsterdam leads the world in terms of bike use for transportation, yet bike-sharing was restricted in regulation over the last couple of years after the city faced a dump of bike-sharing operators for which the city was not prepared. Now, bike-sharing is back, at least in a pilot phase, including bikes and e-cargo bikes. The student-led MET forum thought it was time to discuss again, considering the latest develpments. The session included several speakers and a panel discussion. More information here >>
Day 2 | Integral City | How do we get there?
The second day we took a deep-dive into the 'Integral City', how to realize this, and more importantly, how to integrate this in our city now. The following selection of three afternoon highlights showcases the expertise of a variety of stakeholders on how to shift towards an integral city:
4) Exploring new concepts for Urban Mobility
During this session, four papers on the topic of Urban Mobility were presented under moderation of Olindo Isabella. First a paper on how to deploy automated minibuses in European cities was presented, including scenarios and externalities. The second paper discussed Buurthubs and how these can be scaled up throughout the whole city so that every citizen can use shared mobility within walking distance.
Then, how to support increasing ambition to use canals for thermal energy extraction, transportation and recreation, was discussed during the presentations of the third paper. Last, the potential of early and late adopters of shared electric mobility hubs was identified based on an in-depth case study of a representative sample of the Municipality of Amsterdam population. Read more here >>
5) A workshop on data and maps needed to adapt cities to increasing nighttime heat
Municipalities have to make choices about making their cities heat-resilient. Also, architects and building managers become more and more aware that they need to take into account the consequences of heat events and increased indoor temperatures. To understand the problems of extreme heat, several temperature maps have been developed for the Netherlands, including a map with the number of warm nights.
However, there are quite a few uncertainties in the design and the use of the current map. This session included several speakers and a workshop to reveal the shortcomings of this map, to discover the information needed and explore future joint research proposal opportunities. Continue here >>
6) Urban Water Systems
During this session, three papers on the topic of Urban Water Systems were presented under moderation of Huub Rijnaarts. The first paper presented a journey along five years of microclimate field observations in Amsterdam Atmospheric Monitoring Supersite and highlighted the lessons learned on solar and thermal radiation, flooding and carbon dioxide fluxes.
Furthermore, the second paper presented a novel approach to estimate effective water storage capacity from recession rates of observed evaporation during precipitation-free periods.
Last, the paper presentation on 'Roads as urban water buffers' provides insight into how water buffering roads (can) function in practice, obtained by field-research in various Dutch cities and municipalities. The presentation also goes into the rough analyses designed as an opportunities-atlas showcasing the potential for roads as urban water buffers in urbanized contexts. More information here >>
"Cities are always changing and transforming. We as politicians need to facilitate change and be agile. Often this doesn't come naturally. We need to send a strong message to ask for innovation and solutions."
Anna König Jerlmyr | Mayor | Stockholm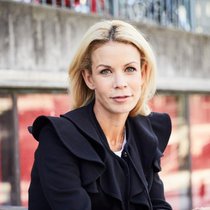 Day 3 | Reinvented City | How do we do it?
On the third and final day of the AMS Conference, we explored the 'Reinvented City'. How do we get there? How do we envision our future city to be, when we fast forward to 2050... Also, what is needed right now? The selection of sessions below taps into both:
7) The acceptance of climate adaptation measures in cities
During this session, three papers on the topic of the acceptance of climate adaptation measures in cities were presented under moderation of dr. Arjen Van Nieuwenhuijzen. The first paper explains why it is crucial to consider the environment itself a stakeholder when developing urban policies for climate resilient cities and presents a novel approach to reinventing the city that moves beyond our current generations to include future generations and non-human perspectives.
The second paper examines the tension between political efforts to implement climate goals in urban planning and design and the acceptance of climate adaptation measures at the local level.
Last, the third paper presents a new collaborative and incremental strategy for urban transformation. The presentation started with laying out the more abstract foundation of collaborative urban development and explain the strategic model underneath it, and ended with an illustration full of inspirational examples, insights and anecdotes. Read more here on openresearch.amsterdam. Also, you can find additional information on our conference website.
8) Positive Energy Districts 2040 Symposium: One Vision, Multiple Pathways
This symposium by Smart BEEjS, focused on two areas of interest that derive from collaborative research outputs: the EU Priority plan to establish 100 Positive Energy Districts across the EU by 2025, and tthe need for the energy transformation to be just and inclusive. These areas cut across the efforts for decarbonisation of the energy system and raise the importance of the local context and socio-economic background for any policy or technological-based intervention. Get inspired by the multiple papers on this topic that were presented during the symposium: have a look here >>. Furthermore, you can find additional information on our conference website.
9) Designing accessible, safe and liveable streets
During this session, three papers on the topic of Designing Accessible, Safe and Livable Streets were presented under moderation of Caroline Nevejan (Chief Science Officer at City of Amsterdam). In the first paper presentation researchers explained how recent advancements in artificial intelligence can be crucial in finding and solving barriers that people with disabilities encounter when moving around or participating in the city.
The second paper identifies perceptions of safety for women in Mumbai since walking in the city demands caution and is yet very important for health, liveability and sustainability, but also as a means for women to participate in urban life.
The third paper presented a street classification framework based on pedestrian activity patterns that can identify street categories at a finer granularity than current methods, which can offer useful implications for state-of-the-art urban management and planning. Continue on openresearch.amsterdam. Also, you can read more about this session on our conference website.
Our bundle of scientific expertise at openresearch.amsterdam
The City of Amsterdam's Chief Science Office shared a great selection of AMS Conference (scientific) presentations, including videos and short articles, on openresearch.amsterdam - a digital platform for research, knowledge, and innovation about Amsterdam and the metropolitan area.
The goal of the platform is to share knowledge, to show relations between different kinds of knowledge, and to work together in research projects. Openresearch.amsterdam is part of the sustainable knowledge infrastructure of municipalities, universities (of applied sciences) and other stakeholders in the Amsterdam metropolitan area.