Green Deal Timber Construction
The Netherlands faces the challenge of building two million new homes and insulating a further 7 million existing homes by 2050. Currently, the built environment mainly uses building materials – such as steel and concrete – that emit large amounts of CO2 during production. Climate change, material scarcity and the current housing shortage urgently require the use of alternative building materials that limit the environmental damage caused by the building sector.
Last week, the Metropolitan Region of Amsterdam (MRA) – which includes 32 municipalities, the provinces of North Holland and Flevoland, and Transport Authority Amsterdam (i.e. Vervoerregio Amsterdam) – signed the covenant 'Green Deal Timber Construction in the Metropolitan Region of Amsterdam'. Today, various private partners and knowledge institutes, including AMS Institute, underlined the set ambitions.
During the signage last Friday and today, we shared a booklet on facts and fiction related to timber construction, created in close collaboration with MaterialDistrict, Pakhuis de Zwijger and the MRA. Download the booklet here (in Dutch) >>
"Biobased materials, in particular the latest generation of mass timber products, are part of the solution to make our city climate neutral and truly circular. We are involved in several timber related initiatives to drive innovation and research – and ultimately more adoption – on this important topic."
AMS PI & Professor Environmental Technology & Design (TU Delft)
All new construction includes at least 20% timber
In the covenant Green Deal Timber Construction the starting point is to make a scale jump for all new construction in the MRA from 2025 onwards by building at least 20% with timber construction/biobased construction. This will lead to an annual reduction of approximately 220,000 tons of CO2 (equivalent to the average emissions of 22,000 households) and a significant reduction in nitrogen emissions.
In addition to designating sites to realize this ambition, investments are made in the joint development and sharing of knowledge in this field. To this end, a 'coalition of the willing' is organized – this coalition commits itself to working with companies and other stakeholders on this theme. Next to the municipalities signing the timber construction covenant last week, today the other 'coalition partners' also ratified the goals. All parties involved are committed to realize at least one timber construction project by next year.
Specifically, within this Green Deal, AMS Institute acts as knowledge and network partner. In the upcoming months/years our ambition is to continue to support the implementation of the Green Deal as knowledge partner. This, amongst other things, through an integrated program supporting bio-based construction in Amsterdam, the MRA, the Netherlands and beyond.
"For this topic, we underline the importance of a triple helix approach. We closely collaborate with our founding universities TU Delft and WUR as well as industry, government and education institutes. Among others, we work on developing living labs in the region to bring research into practice, as well as educate future talent on bio-based construction techniques."
Program Developer Circularity in Urban Regions
Why is a transition to timber construction required?
Despite their harmful effects on the climate and the environment, abiotic building materials such as concrete, steel and brick have been the most widely used building materials for urban construction over the past century.
To illustrate, construction is responsible for 44% of global resource use, among other things, while the limited availability of economically extractable ores (for metals) and oil (for plastics) will create a resource problem - by the end of this century, plastics and metals are expected to run out of raw materials, further demonstrating the need for truly circular construction practices.
In addition, the construction sector is responsible for 38% of man-made CO2 emissions, about a third of which are directly related to the extraction and production of abiotic building materials.
"Although the use of abiotic materials in construction has literally taken us to great heights, these materials have a major impact on the environment. The latest generation of mass timber products can replace these materials one-to-one, without harming the environment. Moreover, they actually act as huge carbon sinks."
Pablo van der Lugt | Research Fellow at AMS Institute | Ambassador bio-based building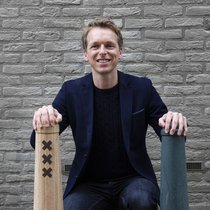 A booklet focused on timber construction facts and fiction
Using mass timber over abiotic building materials in the built environment contributes to achieving Amsterdam's ambition to become climate-neutral and circular by 2050. Thus, it comes as no surprise that the interest in the application of mass timber is increasing, including in the MRA visible through the Green Deal focused on timber in the built environment.
Still, despite the many advantages of mass construction (prefabrication, light and fast construction, healthy indoor climate, lower CO2 and nitrogen emissions, circularity, renewability, etc.), the large-scale adoption and acceptance of timber as a construction material is slow. There are several reasons for this, including several persistent misconceptions that hamper the mass adoption of mass timber in construction.
Therefore, during the signage last Friday and today, we shared this booklet focused on debunking myths related to timber construction, created in close collaboration with MaterialDistrict, Pakhuis de Zwijger and the MRA.
Currently the booklet is only available in Dutch, however in an upcoming series of articles and visualizations, our experts Joke Dufourmont and Pablo van der Lugt take a deep dive into the common misconceptions, using examples, data and research results. Stay tuned!
Want to know more or looking to collaborate?
What are our other activities on this topic?