Transitioning to a more circular economy is important to our sustainability goals. From a logistics perspective, this means that business models and the underlying supply chains are being reconsidered. Much research has addressed the technical side of reuse and recycle strategies, and there has also been some work on circular business models. However, when it comes to introducing reuse or recycling operations, circular businesses often struggle with organizing circular networks and planning their logistics operation.
The goal is to solve logistical problems in Living Labs
The LogiCELL project is organized as a living lab, in which we combine several field labs focused on specific challenges (such as reusing solar panels, shifting to reusable plastics, and the collection and valorization of spent coffee grounds). Grounded in the participative research approach of a living lab, the project will lead to direct impacts for the companies participating in the individual field labs. Next to that, the collection and analysis of individual field lab results will also lead to generalized learning and policy implications.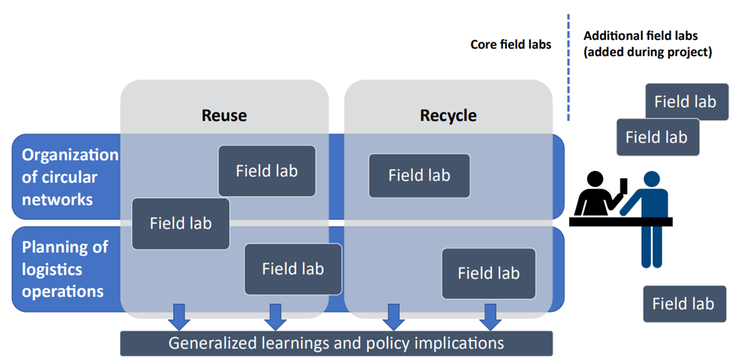 Eight Field Labs to start with, and we aim to add more as we go
At the start of the project, we have the following field labs:
Single Use Plastics: Collective solution for reusable plastic products – De Hallen, ENVIU
Organic Waste: Circular solution for organic waste – Food Center Amsterdam
Matrasses: Solving logistics challenges in Matrass reuse and recycling – Municipality of Amsterdam, in collaboration with e.g., Matrasrecycling Nederland and second-hand stores
Solar Panels: High-quality return flow that allows high-quality reuse – WEEE Nederland, in collaboration with ZonNext and ReFurn
Coordinating return logistics: Optimizing return logistics planning, means and licenses – Seenons
Coffee waste: build up logistics for a coffee waste recycling plant – Caffe Inc
Waste and material collection: Organizing collection to ensure high-quality material use – PreZero, in collaboration with Stadslogistiek (by PostNL)
Reusables: Pooling of reusable packaging such as crates – HB-RTS
Want to know more or looking to collaborate?
| | |
| --- | --- |
| Duration: | January 2024 - December 2025 |
Partners

Wageningen University & Research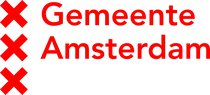 Amsterdam University of Applied Sciences