The audience was a mixed crowd of people from private companies & public organizations, city officials, AMS Staff, researchers & students. Tom van Arman, Smart City Strategist, and a friendly neighbor of AMS Institute at the Marineterrein Amsterdam, moderated the demo day.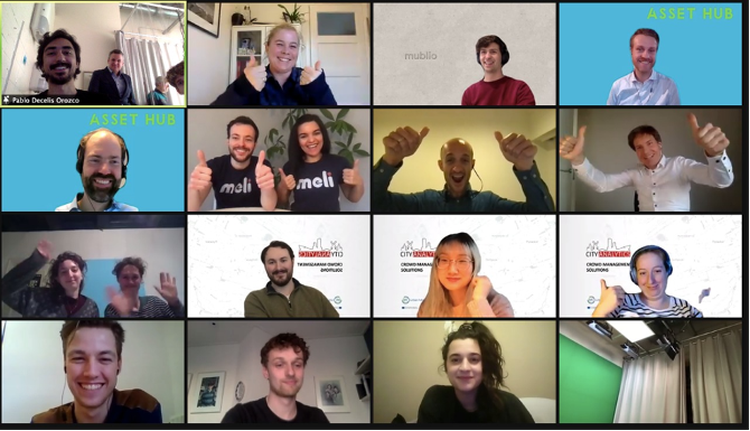 The event took place online but was just as buzzing as any real-life event. Each startup kicked-off with a 5-minute video pitch, recorded at the AMS Studio. The pitch had to include at least the pains and gains of the product/service and a call to action. The pitch was followed by a 5-minute Q&A. Questions ranged from in-depth questions on the technologies, privacy regulations related to data, customer demand, business case, market exploration and competitors. After each startup had their own moment of fame on the central stage, we stepped into breakout rooms for more in-depth discussion with interested parties.
The startups
The 7 startups participated in the program and can now say that they have been "boosted" by AMS Institute. If you want to reach out to any of the startups please contact Marije Wassenaar, program manager New Business & Innovation. Continue reading to learn more about the startups and see their pitches:
Asset Hub
Asset Hub has developed an automated method to detect cracks in masonry infrastructures such as houses. After uploading photos, a model will automatically detect, measure and monitor the cracks. This makes inspection simple and reliable. The startup is timely now that many cities are facing aging infrastructures such as bridges and quay walls.
City Analytics
City Analytics is a startup that has its roots in the research project CityFlows. The co-founders are TU Delft researchers Dorine Duives, Vincent Gong, MSc MADE Alumni Matt Bearden and TU Delft student Xinyi Wang. The startup has converted the CityFlows Crowd Management Decision-Support System (CM-DSS) into a license-based Software-as-a-Service (SaaS). This SaaS, will be available to city officials and crowd managers of pedestrian spaces (i.e. public spaces, train stations, event grounds, shopping malls, schools).
Container Collective
Container Collective is a traveling hybrid design agency. In a 6-week co-creation process, they design sustainable solutions in collaboration with the neighborhood while consulting their network for expertise and knowledge. With the upcoming Omgevingswet we can expect to hear more from them. Two MSc MADE alumni, Lotte Geeraerdts and Renee Swinkels, are the founders. The startup idea was shaped by one of their thesis topics.
Meli
Meli is the "Shazam" of urban monuments, a mobile app that helps curious travelers uncover any monument's story on the spot. Thus, the app helps travelers to better explore the cities they are visiting. The app can also be used for city officials as way of crowd management. Meli will start their first proof at the Marineterrein Amsterdam this summer. At present, the Meli mobile app is available on Android and iOS in 10 languages.
Mublio
Mublio is an initiative of David Demper and Koen Kaljee. This startup is working on efficient and space saving options to gain more m2 in Amsterdam homes. Koen is an MSc MADE alumni (and co-founder of Knakwortel). They discovered that the majority of wishes of home owners are the same but that only the sizes are different. So, they have automated the process and are kicking-off with their first product, "the trapla" to declutter the most cluttered space in Dutch homes, the closet under the stairs. After they have perfected the customer journey and process they will develop more products.
Muuras
Muuras wants to create living walls with wetland flowers to make our cities more green. But apart from this esthetic aspect the startup also has a circular focus. The living walls will be constructed by lightweight helophyte filters that can be attached to the facade of (highrise) buildings. These modular systems achieve internal, decentralized water treatment by reapplying the natural water filtration abilities of wetland ecosystems. The startup is in the process of possible experimentation at the Bajeskwartier.
Swugo
Swugo wants to decrease Co2 emissions and attribute to getting Amsterdam car-free by electrifying bikes. They have developed a smart (control algorithms) battery that can simply be installed on any standard bike to turn it into an electric bike. Electrifying any bike means that everyone can afford the luxury of an electric bike. Their business model is a subscription model with a monthly fee (battery and services).
Want to know more or looking to collaborate?